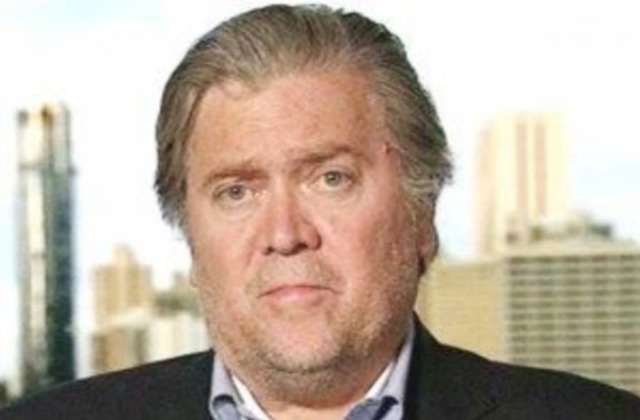 Republicans in Washington D.C. are reportedly unconcerned with the newly declared #WAR against them.
After Steve Bannon was jettisoned from the White House just eight months into his tenure as chief strategist, he returned to Breitbart News with quixotic proclamations of the power his blog would wield against its supposed enemies in D.C.
He referred to himself as "Bannon the Barbarian" in an interview with The Weekly Standard, and declared that he would "crush the opposition" with the "fucking machine at Breitbart."
He told Bloomberg he was "going to war for Trump against his opponents," a sentiment echoed by Breitbart editor Joel Pollak, who tweeted "#WAR" in response to Bannon's firing. (In case you were wondering who those "opponents" are, according to Bannon they're "on Capitol Hill, in the media, and in corporate America.")
But that somewhat comical saber rattling from the bloggers at Breitbart does not seem to have inspired much fear in Hill Republicans, who told Yahoo News the website is unlikely to pose more of a threat to lawmakers than President Trump.
"The ousted senior White House adviser may be back guiding Breitbart's right-wing reactionary bomb-throwing, but he's likely to find himself in the same position that left-wing sites like Daily Kos and Huffington Post occupied when Barack Obama became president in 2009," a number of Republicans told Yahoo.
A Republican close to House speaker Paul Ryan explained that "oppositional websites are much more potent when the movement they represent is not in the White House."
"I haven't heard any congressional Republican leaders express concern about Bannon going back to Breitbart," the source continued. "He's a guy with a website. How much of a problem can a guy with a website actually be? He was much more of a problem when he had daily, hourly, access to the Oval Office."
And indeed, it's hard to see how much damage a guy with a website can actually do: Breitbart has been waging a war against Ryan for years, and recently took to battering H.R. McMaster, Trump's national security adviser — purportedly under the guidance of Bannon.
The result of that #WAR was Bannon's shit-canning from the White House and the approval of McMaster's plans in Afghanistan.
But Bannon sees it differently (or so he says): in the Weekly Standard interview he claimed "I can fight better on the outside."
Again, that's done little to ruffle the feathers of Hill Republicans. Alex Conant, a former campaign staffer for Sen. Marco Rubio, noted that Breitbart has "targeted [Senate Majority Leader Mitch] McConnell and Ryan for years, with very limited impact."
"I don't know what changes, except Bannon has less power today than he did a week ago," he told Yahoo News.
"I'd think of them the same as any other ideological media: worth monitoring and engaging, but really not worth losing sleep over," Conant concluded.
[image via screengrab]
—
Follow Aidan McLaughlin (@aidnmclaughlin) on Twitter
Have a tip we should know? tips@mediaite.com
Aidan McLaughlin - Editor in Chief