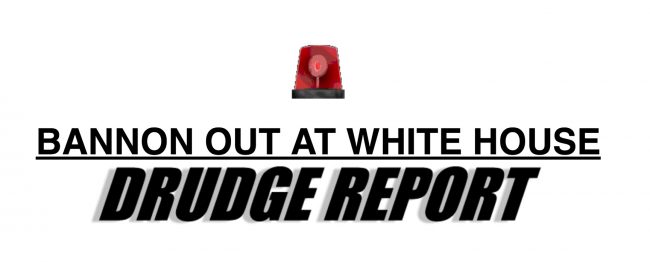 Steve Bannon is out at the White House.
After months (years?) of criticism for his alleged role in the promotion of Donald Trump from nontraditional presidential candidate to resident of the White House, Bannon is reportedly on to his next adventure.  The specifics of his departure are still revealing themselves, but the NY Times confirmed a report first broken by the Drudge Report that Bannon is, in fact, out at the White House.
According to Maggie Haberman reporting for the NY Times:
President Trump has told senior aides that he has decided to remove Stephen K. Bannon, the embattled White House chief strategist who helped Mr. Trump win the 2016 election, according to two administration officials briefed on the discussion.

The president and senior White House officials were debating when and how to dismiss Mr. Bannon. The two administration officials cautioned that Mr. Trump is known to be averse to confrontation within his inner circle, and could decide to keep on Mr. Bannon for some time.

As of Friday morning, the two men were still discussing Mr. Bannon's future, the officials said. A person close to Mr. Bannon insisted the parting of ways was his idea, and that he had submitted his resignation to the president on Aug. 7, to be announced at the start of this week, but it was delayed in the wake of the racial unrest in Charlottesville, Va.
Bannon's specific role in the Trump administration was never perfectly clear as the title "Chief Strategist" suggests a broad and nebulous set of responsibilities. Given that the former Editor-in-Chief at Brietbart.com had bragged about providing a safe space for the alt-Right, he was often a lightening rod of criticism for many who criticized the Trump administration for not being as vocally critical of hate groups.
As both Charles Krauthammer and Newt Gingrich recently suggested, it appears that Bannon may have been "Scarrammuci'd" after inadvertently providing an on-the-record interview with American Prospect. This interview appeared to be politically damaging, not just to his own standing in the White House, but for what he said in a conversation that he appeared to have thought was private. On the other hand, The New York Times report on Bannon's ouster said the chief strategist tendered his resignation almost two weeks ago.
Bannon's standing in the White House has been something of a roller coaster. In the early weeks he was lauded as something of a "puppet master" and satirized in SNL sketches and even earning a cover on Time magazine, which went so far to call him the "President of the United States." But that level of attention reportedly didn't play well with President Trump and there were many rumors that Bannon was either in the dog house or on his way out. Afterwords, Bannon seemed to work his way back into Trump's good graces by keeping a low profile.
It's not yet clear what the specific reason is for Bannon's departure. It could be that the attention received for his American Prospect interview was one publicity moment too far. OR it could be that Trump felt pressure to change his team surrounding him, particularly in light of the deadly protest in Charlottesville last weekend and bipartisan criticism the administration has received for the President's "both sides" comments (that Bannon called a "defining moment" for Trump's presidency.)
Developing…
Have a tip we should know? tips@mediaite.com