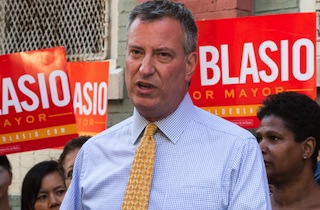 New York City Mayor Bill de Blasio will continue his tradition of not marching in the St. Patrick's Day parade, in objection to the promoters' refusal to allow LGBT groups to march. The party's organizers say gay people are welcome to attend the parade, but that the inclusion of LGBT groups would dilute the focus on Irish culture and heritage.
"I will be participating in a number of other events to honor the Irish heritage of this city," de Blasio said. "But I simply disagree with the organizer of that parade in their exclusion of some individuals in the city."
The battle began in 1993, when parade organizers declined to allow the Irish Lesbian and Gay Organization to march, a decision later ratified by the courts. The mayor did not march when he was public advocate, though Mayor Michael Bloomberg did.
However, de Blasio will allow uniformed city workers, like firefighters and police officers, to march in the parade, despite advocates and legislators calling the barring of LGBT groups a violation of the city's Human Rights Law.
"The presence of uniformed police and firefighters in such a procession sends a clear signal to LGBTQ New Yorkers that these personnel, who are charged with serving and protecting all New Yorkers, do not respect the lives or safety of LGBT people," wrote Public Advocate Leticia James, along with numerous advocacy groups and prominent officialsin an open letter to the mayor.
"I believe that uniformed city workers have a right to participate if they choose to, and I respect that right," de Blasio told reporters.
[h/t AP / NY Observer]
[Image via Warzer Jaff]
——
>> Follow Evan McMurry (@evanmcmurry) on Twitter
Have a tip we should know? tips@mediaite.com