Deaf Child 'Forced' To Change Gun-Like Signing Name Not Actually Forced To Change Name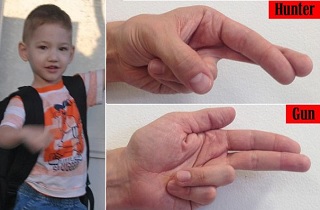 There's a ridiculous story being passed around the conservative blogosphere that says a 3 year-old deaf boy in Nebraska is being forced to change his individualized sign language name, because the sign he uses resembles a gun. The story of Hunter Spanjer, which was referenced in a Washington Times editorial today, is ridiculous, mostly because it's kind of true, but not exactly.
Here's how the story was presented by conservative blogger Liz Thatcher:
School District Forces Deaf Toddler to Change Name Sign Because It Looks Like a Gun

Here is another entry for your "We couldn't make this crap up if we tried" folder. 3-year-old Hunter Spanjer was told by a Nebraska school district to change his personalized, registered-with-the-Signing-Exact-English name sign because it looks too much like a gun.

Wait, WHAT?

A school spokesman said that they are "working with the parents to come up with the best solution for the child."

Here's an idea! How about not forcing him to change his name? That might be helpful.
That is cray-cray, even more so than the school that suspended a 7 year-old for violating its weapons policy with a pencil and a bad machine gun sound effect. Hunter's story even contains a priceless chapter-and-verse citation of the Grand Islands, Nebraska, school board policy:
Hunter Spanjer says his name with a certain special hand gesture, but at just three and a half years old, he may have to change it.

"He's deaf, and his name sign, they say, is a violation of their weapons policy," explained Hunter's father, Brian Spanjer.

Grand Island's "Weapons in Schools" Board Policy 8470 forbids "any instrument…that looks like a weapon," But a three year-old's hands?

"Anybody that I have talked to thinks this is absolutely ridiculous. This is not threatening in any way," said Hunter's grandmother Janet Logue.

"It's a symbol. It's an actual sign, a registered sign, through S.E.E.," Brian Spanjer said.
It's an irresistible story and, despite its current burgeoning popularity on the right, a sign of misguided administrative priorities that any parent will recognize. There are just two problems with the story: It happened almost a year ago, and the child was not forced to change his name in the end:
Hunter Spanjer's story touched a nerve nationwide, and abroad.

Hunter's parents say that Grand Island Public Schools told them the deaf three year-old's name sign violates the school district's weapons policy.

However, Grand Island Public Schools is sticking by their statement, released Tuesday:

"Grand Island Public Schools is not requiring any current student with a hearing impairment to change his or her sign language name."

But Hunter Spanjer's father says that isn't what he's heard from the district.

"If they feel like they're wrong, and they're not requiring him to change his name sign, then there's no issue here. And an apology and a, uh, you know, "we're going to go ahead and proceed as usual" would have sufficed. We kind of felt like at one point, yesterday…that they were trying to deter, deter the credibility of this story. And I don't feel that's a proper response," Brian Spanjer said.
The point here isn't to make fun of conservatives, as much fun as that usually is. Even though it all worked out for Hunter, it is utterly outrageous that the school ever even asked that he change his name. As a parent, I leapt on the story as soon as I saw it on Twitter. The point is that I don't know what's more outrageous and stupid, asking a boy to change his name because the sign resembles a gun, or telling parents not to lock up their guns. However, I do know which is deadlier.
Have a tip we should know? tips@mediaite.com