Dee Snider Blasts Trump For 'Very Little' Presence On Celebrity Apprentice: 'He Doesn't See Anything'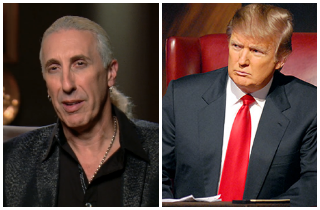 It's a not-so-well-kept secret that reality television abides by a rather loose definition of "reality." We may love the D-R-A-M-A, but things usually aren't as they seem. And this is what Twisted Sister's Dee Snider —who's on the current all-star season of Donald Trump's Celebrity Apprentice — took issue with during a recent radio interview with WOR's John Gambling. Trump, he said, isn't very clued in to what's going on.
One of the problems with the show, Snider (who was fired on Sunday night's episode) said, is that they see "very little" of Trump himself. "Like a judge, he doesn't see anything," he asserted. "He only hears what's going on in the boardroom. He doesn't see tapes, he doesn't know anything."
Thus, in the boardroom, he added, when Trump is listening to the various team members, he has no frame of reference to know how truthful they're being — and that's an issue.
Snider also commented on the infamously "evil" Omarosa, also a contestant this season, noting that "she's lovely" off camera, but the show is a performance. "When she's doing her act, she is a villain," he said. "And that's where she lives, in the world of reality TV. And she does her thing."
So, is the show fun? "The standard answer from everybody who was asked to return to the show was no," Snider said, explaining that it's incredibly strenuous and time consuming. "It is Survivor": For the men, it's 16 hours a day, six days a week, three shows a week.
An "unrelenting grind."
Yep, sounds enjoyable.
Listen below:

Have a tip we should know? tips@mediaite.com