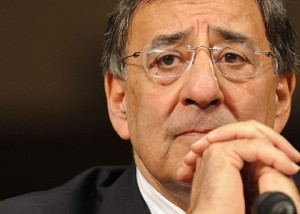 Leon Panetta, the current U.S. defense secretary and former CIA director, made his first public comments yesterday about the scandal surrounding David Petraeus. Panetta expressed regret that someone with the kind of career Petraeus had was brought down by an extramarital affair. Panetta told reporters he has not seen evidence so far that Petraeus' affair began when he was on active duty.
RELATED: Joe Scarborough: I Know, Personally, That Some In DC Knew About Petraeus Investigation '3, 4 Weeks Ago'
According to CNN, Panetta made the comments about Petraeus during a mid-flight press conference with reporters en route to Australia.
"It was a very sad situation to have a distinguished career like that end in this manner. And my heart obviously goes out to him and his family, but I think he took the right step and I think its important when you're director of the CIA with all the challenges that face you in that position, that personal integrity comes first and foremost."
He expressed his relief that Petraeus stepped down immediately so the CIA can be focused on intelligence operations. In response to a question from a reporter about when the Petraeus affair started, Panetta said he is waiting to hear from the official investigation before saying anything on the subject.
Another reporter asked Petraeus if Congress should have been made aware of the affair sooner. Panetta said that congressional intelligence committees should be made aware of "issues that could affect… the security of those intelligence operations."
—–
Follow Josh Feldman on Twitter: @feldmaniac
Have a tip we should know? tips@mediaite.com
Josh Feldman - Senior Editor