Dem Lawmaker Reveals Her Rape and Abortion, Accuses GOP Colleague of Laughing at Her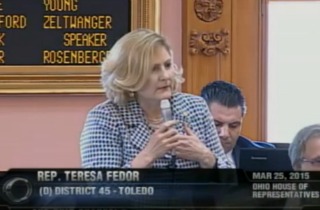 While railing against an abortion-limiting bill in the Ohio legislature this week, Democratic State Rep. Teresa Fedor publicly disclosed for the first time that she had once been raped and elected to have an abortion.
The state legislature was in the process of voting on House Bill 69, a law that would make it a fifth-degree felony for abortions performed after a fetal heartbeat is detectable. The bill currently makes exceptions for the mother's life, but not for pregnancies resulting from incest or rape.
That incensed Fedor, who stood up in the House chamber to deliver a self-described "lecture" that included revealing how she was raped during her time in the military and terminated the pregnancy shortly thereafter.
"You don't respect my reason, my rape, my abortion, and I guarantee you there are other women who should stand up with me and be courageous enough to speak that voice," she said, according to The Toledo Blade. "What you're doing is so fundamentally inhuman, unconstitutional, and I've sat here too long."
Her impassioned speech included a dare for colleagues to "judge" her personal choices. "There's only one judge I'm going to face," she said, appealing to religious faith. "I dare you to walk in my shoes… It is a personal decision, and how dare government get into my business."
At one point, while sharing her story, Fedor paused to scold a colleague on the Republican side of the chamber who was allegedly laughing at her. "I see people laughing and I don't appreciate that, on the other side," the lawmaker said without naming anyone in particular. "And it happens to be a man who is laughing. But this is serious business right now and I'm speaking for all the women in the state of Ohio who didn't get the opportunity to be in front of that committee and make this statement."
The bill eventually passed the House with a 55-40 vote. This reportedly marks the Ohio House's third vote on the bill, and its second passing. Meanwhile, the state's senate is expected to resist taking up the so-called "Heartbeat Bill" for vote.
Watch below, via The Toledo Blade/The Ohio Channel:
[h/t Mother Jones]
[Image via screengrab]
— —
Have a tip we should know? [email protected]
---