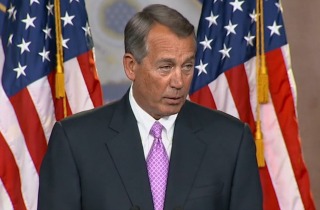 A group of House Democrats, led by Rep. Keith Ellison (D-MN), penned a letter to House Speaker John Boehner urging him to delay Israeli Prime Minister Benjamin Netanyahu's speech to Congress. They accused Boehner of using Netanyahu as a "political tool" to embarrass President Barack Obama.
"As members of Congress who support Israel, we share concern that it appears that you are using a foreign leader as a political tool against the president," they wrote.
Netanyahu's address to Congress will come just a few weeks before he is up for re-election in Israel, and according to the White House, Boehner's invitation to Netanyahu was a "breach of diplomatic protocol" for that reason. House Minority Leader Nancy Pelosi (D-CA) said the speech might hurt the U.S.'s nuclear talks with Iran, given Netanyahu's strong support for imposing more sanctions, and she scolded Boehner for the "inappropriate" invitation. Other prominent Democrats have said they plan on outright skipping the speech.
–RELATED: CNN Poll: Majority of Americans Oppose Boehner's Netanyahu Invite
Ellison and his colleagues echoed all of the above arguments.
"At this time your invitation is contrary to the standards by which our Congress operates and has the potential to harm U.S. foreign policy," they wrote. "This appears to be an attempt to promote new sanctions legislation against Iran that could undermine critical negotiations between the P5+1 and Iran."
The invitation to Netanyahu, according to these lawmakers, is just an attempt by Boehner to have a foreign leader influence President Obama's policy goals.
"We strongly urge you to postpone this invitation until Israelis have cast their ballots and the deadline for diplomatic negotiations with Iran has passed," the letter continued. "When the Israeli Prime Minister visits us outside the specter of partisan politics, we will be delighted and honored to greet him or her on the floor of the House."
Israeli officials have said they assumed Boehner would have told Obama, accusing Boehner of misleading Netanyahu about the whole thing. Meanwhile, Netanyahu has thus far dismissed Obama's and House Democrats' objections. Obama will not meet with Netanyahu when he is in Washington.
You can read the full letter here:
Read Rep. Keith Ellison letter by kballuck1
[Image via screengrab]
— —
>>Follow Andrew Desiderio (@forza_desiderio) on Twitter
Have a tip we should know? tips@mediaite.com