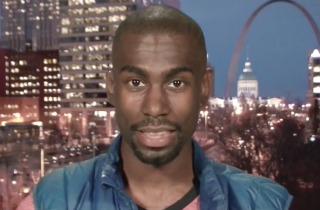 Few activists in the Black Lives Matter movement have received the sort of glowing accolades from the left as DeRay McKesson. The Huffington Post has declared him "among the most widely recognized and respected young black civil rights activists." Fortune declared him among the "World's Greatest Leaders," The Los Angeles Times hailed him as one of the "new civil rights leaders," and New York Magazine gave him a fawning profile. Even Hillary Clinton invited him to her campaign (re-re-)launch.
At the same time, few activists have provoked the ire of the right wing to the extent DeRay has. His announcement that he would visit Charleston after the racist murder of nine people spawned thousands of tweets with the hashtag #GoHomeDeray. National Review's Ian Tuttle nicely summed up the gist of conservative opposition with a piece calling him "The Next Generation of Race-Baiters" modeled after Al Sharpton.
Argue all you want if DeRay is indeed a "race-baiter" or the next Martin Luther King Jr., but one thing's for sure: he is an unrepentant conspiracy-monger with no qualms about smearing innocent men with accusations of murder.
The circumstances of Sandra Bland's death in police custody ought to have been sufficiently scandalous for anyone. A white Texas police officer pulls over a black woman for a routine traffic stop, and ends up throwing her in jail. Video of the arrest shows that the officer escalated the situation after she declined to put out her cigarette (which is perfectly legal). Bland is thrown in a jail which appears to have ignored several regulations, and despite indicating a history of suicide, is thrown in a cell by herself with a plastic black bag that she uses to hang herself.
It was an outrage and a tragedy, plain and simple. But for a select group of deranged individuals, it wasn't enough that police negligence led to Bland's death. Instead, they concocted a conspiracy theory that she was murdered in cold blood, which was then covered up by the police. Presumably the killers were the police themselves.
Buzzfeed's Ryan Broderick has a nice round-up of the conspiracy theory that picked up steam on Twitter earlier this week. Essentially, some lunatics people believe that Sandra Bland was already dead in her mugshot. They cite the supposed "lifelessness" of her mugshot photo, the lack of places in her cell to hang herself, inconsistent replies on her booking documents, and glitches in the first release of the Bland arrest video that made it appear to be edited (police later released the full video).
I won't bother debunking all the inane and sometimes contradictory conspiracy theories surrounding Bland's death, since the Buzzfeed story does it well enough. Let it suffice to say that the medical examiner ruled Bland's death a suicide, and specifically noted that she had healed cuts on her arms consistent with self-harm. And again, Bland said in booking documents that she had previously attempted suicide (Truther response: they were doctored!).
But at the forefront of the Bland truthers was none other than DeRay, who began by "asking questions" Wednesday, dismissing the evidence that she had previously attempted suicide, and retweeting the asinine "dead mugshot" theory:
They are now reporting that there were "cutting scars" on #SandraBland's arms that "appear to be fresh." The cover-up is thick.

— deray mckesson (@deray) July 23, 2015
This was apparently #SandraBland's cell. Do trashcans come in all cells? Where did she supposedly hang herself from? pic.twitter.com/wWdngqJJfp — deray mckesson (@deray) July 22, 2015
And here is #SandraBland's alleged medical health evaluation form. (h/t @LSewardKHOU) pic.twitter.com/iBLWsv8HJg

— deray mckesson (@deray) July 22, 2015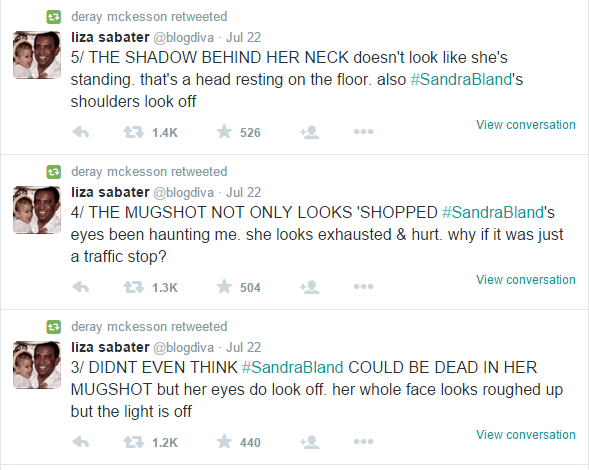 Taking those accusations one-by-one: 1. The autopsy says the cuts were healed, which would be impossible if they had been applied postmortem. 2. Police admit that putting the trashbags in cells was a mistake, but clarified that she hung herself from a very high T-shaped figure not visible in the image DeRay tweeted. 3. Are we supposed to belief that police made up a suicide attempt, but then offered obviously falsifiable information (namely that it involved pills, and that she lost a child in 2015)? You'd think law enforcement would be better at crimes. 4. Just… no. But by Friday, DeRay had graduated to unabashedly saying that she was murdered:
After being here in Waller County, I'm certain that they killed #SandraBland. — deray mckesson (@deray) July 24, 2015
In fact, he goes as far to accuse a specific law officer of partaking in the cover-up (The only "Sheriff" relevant here would be Waller County Sheriff Glenn Smith):
I was told that black funeral homes are called for black folk. But the Waller Sheriff called his friend at a white funeral home for Sandra.

— deray mckesson (@deray) July 24, 2015
There is speculation that the Sherriff called his friend to handle #SandraBland's body in order to allow for tampering to support suicide. — deray mckesson (@deray) July 24, 2015
See, Waller County should've called Singleton Funeral Home but called McWilliams instead. Why? #SandraBland

— deray mckesson (@deray) July 24, 2015
Ladies and gentlemen, one of the World's Greatest Leaders uncritically passing along an unsourced allegation that an easily identifiable man took part in a murder cover-up. #truthteller
I can understand liberals' desire to defend DeRay. He's a social justice activist held up in high regard by many in the movement, and much virtual ink has been spilled labeling all of his detractors racist. But you have to face the truth that conservatives have been trying to tell you for months: he's a provocateur whose desire for "the truth" disappears when it flatters his radical ideology and ego.
So yes, DeRay needs to "go home," and I hope liberals and conservatives can speak with one voice on the subject. And no, it has nothing to his race, but it has everything to do with the innocent lives he's ruining.
[Image via screengrab]
——
>>Follow Alex Griswold (@HashtagGriswold) on Twitter
Have a tip we should know? tips@mediaite.com