Ron DeSantis Ripped on Twitter Over 'Monkey This Up' Remark About Andrew Gillum: 'Barely-Veiled Racism'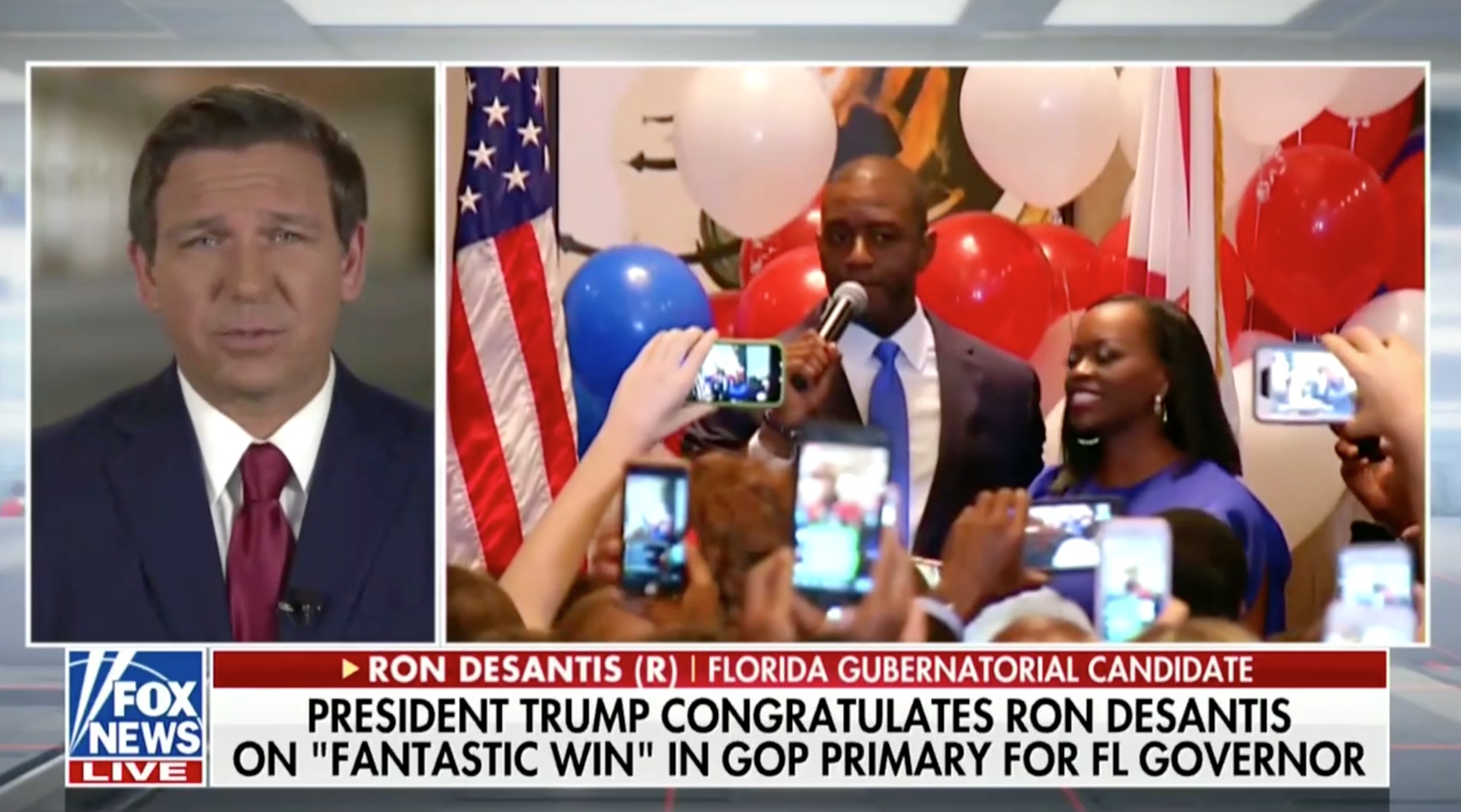 Florida gubernatorial candidate Ron DeSantis is taking fire after making a questionable remark on Fox News about his Democratic competition, Andrew Gillum.
During an interview where he was asked about his strategy to counter his rival in the upcoming race, DeSantis warned that Floridians can't "monkey this up" by allowing Gillum — an African American — to win the governorship.
Shortly after, a spokesperson for DeSantis gave a statement to NBC insisting that the aspiring governor's remarks weren't a reference to Gillum's race.
DeSantis' spox tells me this is something the congressman says "frequently" to express something that was messed up or not done right.

Spox says it "had nothing to do with race or anything like that" but just talking about the situation in Florida. #FLGOV https://t.co/Eg6I3W9ivx

— Ali Vitali (@alivitali) August 29, 2018
DeSantis made his remarks with regard to Gillum's progressive policies, but the defense that his comments were simply an odious choice of words did not hold up well on Twitter, where he was pilloried for what many saw as a racially-charged dog whistle.
As a Floridian, it was my hope this Governor's race would be about the pressing issues facing our state -rising tides, algae outbreak, trade, economy, jobs. I had hoped it would not be one were racism was front and center. That hope lasted all of 10 hours. https://t.co/KeBENvMovw

— Ana Navarro (@ananavarro) August 29, 2018
This is intentional. Also, it sounds like DeSantis wanted to run against Gillum rather than Graham. https://t.co/m9jRFZIaDK

— Bob Cesca (@bobcesca_go) August 29, 2018
The race for Florida governor is going to be about race.

The white Republican, @RonDeSantisFL, uses "monkey" as a verb and liberals who back the black Democrat, @AndrewGillum, say it's racist. pic.twitter.com/75UJtDYDbz

— Marc Caputo (@MarcACaputo) August 29, 2018
Remember earlier this summer, when someone went on Fox News and told Joel Payne, a Democratic strategist who happens to be black, that he was "out of his cotton-picking mind"?

The was David Bossie, who is a member of Ron DeSantis' national finance team https://t.co/4jyY71Xl0p

— Roberto Aram Ferdman (@robferdman) August 29, 2018
it took like 12 hours for DeSantis to drop a little barely-veiled racism and most of those hours were sleeping hours

— Simon Maloy (@SimonMaloy) August 29, 2018
What's the dividing line between a dog whistle & a bull horn? GOP Gov nominee cautions Florida voters against "monkeying it up" by voting for his opponent, who happens to be black. https://t.co/hb1GV4FJCH

— Joyce Alene (@JoyceWhiteVance) August 29, 2018
Real subtle https://t.co/5gBdVkO32d

— Spencer Ackerman (@attackerman) August 29, 2018
well, he's got roseanne's vote https://t.co/uTvmVBl9sX

— David Mack (@davidmackau) August 29, 2018
Very pathetic from Ron DeSantis. https://t.co/b39qzeYng8

— Soledad O'Brien (@soledadobrien) August 29, 2018
He knows what he said. He even emphasized the word monkey. Let me clear, @RonDeSantisFL is a racist piece of shit. Defeating him in the general election now will be the highlights of this election cycle. https://t.co/Q70cKWDboc

— Cenk Uygur (@cenkuygur) August 29, 2018
That's the GOP for you. https://t.co/xmyhn6MXgg

— Markos Moulitsas (@markos) August 29, 2018
ah, couldn't even wait until after labor day to do a racism https://t.co/9YY1p2mLWQ

— b-boy bouiebaisse (@jbouie) August 29, 2018
Well this is off to a nice start. What a scumbag. https://t.co/mFqdm0dnWy

— Ryan Grim (@ryangrim) August 29, 2018
Well, this is unacceptable. https://t.co/sRbuVS0dez

— Symone D. Sanders (@SymoneDSanders) August 29, 2018
it's deliberate folks.

period. https://t.co/S5HOuuxMUO

— Eric Boehlert (@EricBoehlert) August 29, 2018
Who wants to tell him? https://t.co/GivgJvEHx1

— Bakari Sellers (@Bakari_Sellers) August 29, 2018
[Image via screengrab]
— —
>> Follow Ken Meyer (@KenMeyer91) on Twitter
Have a tip we should know? tips@mediaite.com