Devin Nunes Reportedly Felt Pressure from White House to 'Manufacture Fake Scandal'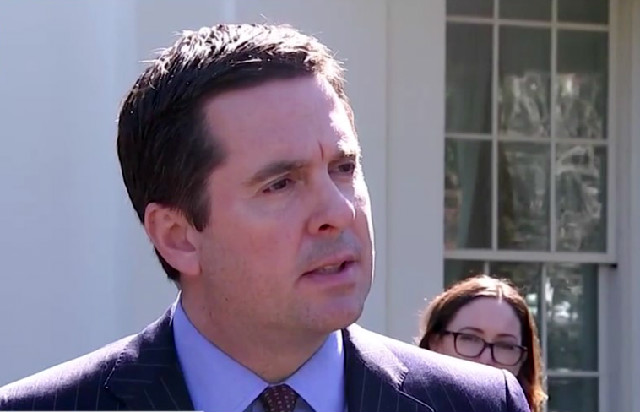 As we posted about last week, lawmakers on both sides of the aisle have reportedly found no evidence to support claims that former National Security Advisor Susan Rice acted improperly. This revelation came following a review of the same materials examined by House Intelligence Committee Chairman Devin Nunes.
Now, a new report suggests that Nunes may have been feeling pressure from the White House to justify President Donald Trump's March 4 tweet that he had his "wires tapped" at Trump Tower.
Terrible! Just found out that Obama had my "wires tapped" in Trump Tower just before the victory. Nothing found. This is McCarthyism!

— Donald J. Trump (@realDonaldTrump) March 4, 2017
According to a report from The New Yorker's Ryan Lizza, an unnamed intelligence source believes Nunes may have felt some heat from the White House to "manufacture a fake scandal."
From the report:
The intelligence source told me that he knows, "from talking to people in the intelligence community," that "the White House said, 'We are going to mobilize to find something to justify the President's tweet that he was being surveilled.' They put out an all-points bulletin"—a call to sift through intelligence reports—"and said, 'We need to find something that justifies the President's crazy tweet about surveillance at Trump Tower.' And I'm telling you there is no way you get that from those transcripts, which are about as plain vanilla as can be."
Nunes recused himself from the Intelligence Committee's investigation into Russian manipulation in the 2016 election, and is currently the subject of a House Ethics Committee probe into whether he leaked classified information.
But according to Lizza, "this is like getting Al Capone for tax evasion. The bigger scandal is the coordinated effort to use the American intelligence services to manufacture an excuse for Trump's original tweet."
[image via screengrab]
——
Follow Joe DePaolo (@joe_depaolo) on Twitter
Have a tip we should know? tips@mediaite.com
Joe DePaolo - Senior Editor