Did a Teen Really Stow Away in the Wheel Well of a 767 All the Way to Hawaii?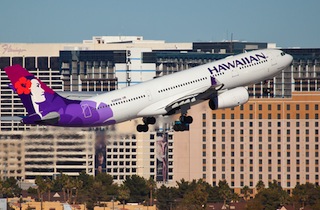 A seemingly-unbelievable story is emerging out of Hawaii, as a sixteen-year-old found wandering dazed and confused on an airport tarmac is reported to have stowed away in the wheel well of a Boeing 767 during a flight from San Jose, CA to Maui.

If true — and the FBI is treating it as such — the boy survived a five-hour flight at 38,000 feet. Authorities say that the teen, who they all agreed was lucky to be alive, showed no apparent injury, and was likely unconscious for much of the flight.
However, Hawaiian Airlines says the teen's method of transport has not been confirmed, and there's cause to be very suspicious of his claim: "We've talked to sources in aviation who say it is unlikely anybody could survive at 38,000 feet, in sub-zero temperatures, with no oxygen," a reporter for KTVU-2 said.
Security footage at San Jose's airport reportedly shows the teen hopping a fence to gain access to the plane, footage that is now the subject of TSA investigation. For those keeping score at home, this is the second major security breach in the past month performed by a teenager outsmarting a fence, the previous coming when a sixteen-year-old slipped through a hole in a fence to climb atop One World Trade Center a few weeks ago. This confirms my theory that teens are the real national security threat.
UPDATE @ 7:24 P.M.: According to CNN, no charges will be filed against him.
Watch a segment about the stowaway below, via KTVU-2:
[h/t Star-Advertiser]
[Image via Chris Parypa Photography / Shutterstock.com]
——
>> Follow Evan McMurry (@evanmcmurry) on Twitter
Have a tip we should know? tips@mediaite.com