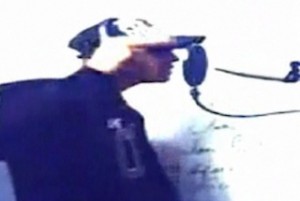 Public Enemy's Chuck D once made the famous claim that "rap is CNN for black people" – it's news made entertaining. In America, hip-hop and rap began as a vocalization of a culture that was not prominent, a culture with frustrations and oppressions that found voice when paired with turntables, a breakbeat and rhyme. American hip-hop was a political statement before it was an economic powerhouse.
In a recent report, NBC's Karl Bostic indicates that this pattern has re-emerged in the Arab world. Hip-hop as an underground critique has burst into the political world, providing a soundtrack to the Arab Spring.
Bostic interviewed artists in Egypt, Libya, Tunisia, Bahrain and the West Bank. (Longer versions of many of the interviews are on MSNBC's website.) Though the political situation and roadblocks in each are unique, hip-hop (according to the interviewees) has served as town crier in mobilizing the population – informing, engaging and inspiring.
Omar Offendum, a Syrian-American hip-hop artist, notes:
Even if the dictator doesn't necessarily step down, the fact that people are out there and speaking about issues that they for so long they were quiet about or afraid to speak about, is in and of itself a triumph. And hip-hop artists are certainly taking advantage of that.
Hip-hop in the Arab World preceded this year's uprisings but has not been welcome. Boge, a Libyan rapper who learned English from movies and hip-hop, notes that the authorities "used to put us in prison, just for rapping." In Syria, which is still struggling to gain freedom, the song "Come On, Leave Bashar" (below) has become an underground anthem – in part because a man singing it was arrested and killed, his vocal cords removed.
The West has fostered and empowered this hip-hop revolution by helping to broadcast the music to a broader audience. The Bahraini MC notes the "media buzz we got because we mixed English and Arabic in the song" – providing distribution the message would not otherwise have gotten.
Other media outlets have covered the role hip-hop plays in the revolutions. Arab Media and Society took a comprehensive look, and, in July, so did the BBC. The latter notes the burgeoning hip-hop scene in newly-freed Benghazi, and quotes one rapper saying that "these revolutions have broken the fear barrier and the silence."
In the Arab revolutions, hip-hop may just be a backing track, or it may be the bullhorn of the masses; it's hard to tell from here. But either way, breaking that silence is the point. In the NBC documentary, Deeb, an artist from Egypt, echoes Chuck D.
State media is, you know, the traditional news where you know what's going on. No, you don't know what's going on. Hip-hop is from the streets. We know what's going on.
Fight the power.
Have a tip we should know? tips@mediaite.com