So… Rebecca Schoenkopf over at Wonkette is pretty certain that actor Paul Rudd was one of the many bystanders who tackled a violent, homophobic maniac to the ground after he attacked a man in a pink shirt at the Dallas-Fort Worth International Airport last week. And after reviewing the video, we are pretty sure she's right.
Check out the guy in the blazer and plaid shirt who runs into the frame at around the 1:20 mark: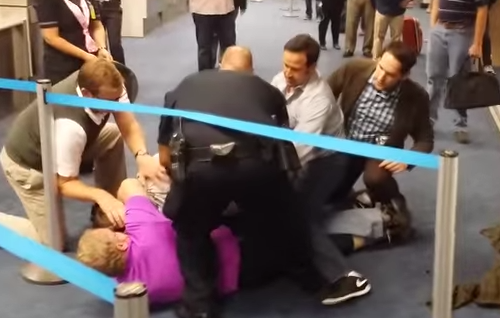 A lot white guys look like Paul Rudd, but this guy really looks like Paul Rudd.
And on top of that, thanks to the expert sleuth work of comedian Sara Benincasa, we now know that Rudd was spotted on a flight that left out of Dallas last Thursday. Mediaite has reached out to Rudd's reps for any confirmation that it is him in the video.
This story was incredible as is, but the presence of one of Hollywood's most charming, ageless stars just put it over the top.
Watch video below, via YouTube (WARNING: NSFW language):
UPDATE — 4:05 p.m. ET: A representative for Paul Rudd has confirmed to Time magazine that the actor was NOT involved in last week's brawl at the Dallas airport. So if you are out there, Paul Rudd doppelgänger, it's about time you show yourself.
UPDATE — 6:00 p.m. ET: We have identified the Paul Rudd lookalike. Ben Kravit, a brand manager for Dr. Pepper from Dallas has confirmed that it is him in the video:
@TheMattWilstein not Paul Rudd but that's me. Happy to stand in for him if he ever needs it. #PaulRuddSavesLives #doppelganger

— Ben Kravit (@bkravit) October 27, 2014
[Photo via screengrab]
— —
>> Follow Matt Wilstein (@TheMattWilstein) on Twitter
Have a tip we should know? tips@mediaite.com