Dinesh D'Souza Blames 2016: Obama's America Oscar Snub Not On It Being Bad, But On Hollywood Liberalism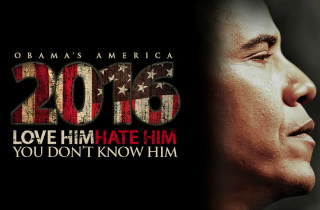 The short-listed nominees for the 85th Academy Award for Best Documentary Feature have been announced, and missing from the list is the highest-grossing doc of the year: the conservative 2016: Obama's America.
Naturally, this has some conservatives in a tizzy, including the film's writer and director Dinesh D'Souza.
"I want to thank the Academy for not nominating our film," D'Souza joked to The Hollywood Reporter. He then took a predictable shot at liberal Hollywood and the movies that did get nominated:
"By ignoring 2016, the top-performing box-office hit of 2012, and pretending that films like Searching for Sugar Man and This Is Not a Film are more deserving of an Oscar, our friends in Hollywood have removed any doubt average Americans may have had that liberal political ideology, not excellence, is the true standard of what receives awards."
By going after movies he most likely hasn't seen, and claiming that political bias left him Oscar-less, D'Souza falls prey to the laziest of excuses.
As I've written here before, Sugar Man is an excellent film. It is a thoughtful, articulate movie that tells a clear story of redemption — one that transcends political, cultural, and musical boundaries to uplift its audience. It has received near-universal praise from critics of all stripes.
2016, on the other hand, is a well-polished polemic asking the sort of "questions" that you'd find in a forwarded chain-mail from your conservative uncle. Yes, conservative sites like Breitbart lapped it up, but there were plenty of non-liberal critics who found the movie to be overly-reductive and unintentionally hilarious.
It reminds me of how Kelsey Grammer blamed his Starz series' Emmy snub on liberal Hollywood types not liking his conservative politics. But the reality is that Boss was just not as well-reviewed as the other shows, and perhaps it was just a convenient way to deflect blame from his own program.
Yet conservative filmmakers and actors continually abuse this excuse, often unaware that perhaps their product is just not that good. It would not be surprising to hear the makers of the heavily-panned Atlas Shrugged movies blame its obvious lack of Oscar nods on liberal Hollywood.
But take it from this non-liberal, some conservative movies like 2016, Atlas, and the downright awful Last Ounce of Courage don't get nominated for critical awards because they are just that: awful. And so were many of those dime-a-dozen liberal documentaries like Robert Greenwald's Outfoxed. Notice: those didn't get nominated either.
Ultimately, it seems, the Academy will snub movies that, you know… aren't good.
That's not to say that political bias does not exist within Hollywood and the Academy. It most certainly does.
A good example would be the 2010 documentary Waiting for "Superman". That movie had all the makings of a standard Oscar winner: a slew of film festival victories, Davis Guggenheim (of An Inconvenient Truth fame) behind the camera, and the heart-wrenching truth about inner-city education.
But because the movie's main message was essentially pro-school choice and painting the teachers' unions as obstructive, the movie did not see an Oscar nomination despite its near-universal critical praise.
In that case, one could claim that political bias got in the way of an award nomination. But with 2016, the argument is much, much more specious.
— —
>> Follow Andrew Kirell (@AndrewKirell) on Twitter
Have a tip we should know? tips@mediaite.com