Disney World Reportedly Struggling With How to Add Trump to Hall of Presidents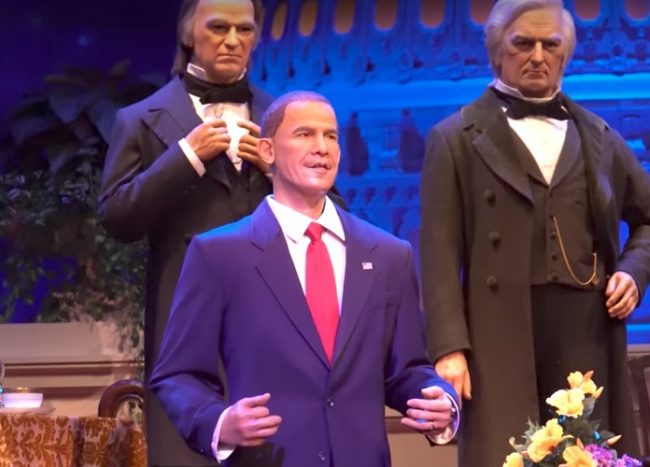 The election of Donald Trump has reportedly thrown the Imagineers down at Disney World into a tricky situation.
See, at Disney World, they have a Hall of Presidents. Since 1993, a lot of the animatronic presidents — which all accurately represent the appearance of the 44 presidents we've had thus far — have spoken during the short presentation, which features music and a lesson in American history. The issue now is that we've elected a president whose speech isn't quite as, uh, measured as his predecessors'. When Trump speaks, he's liable to insult someone or spill classified information.
So, what are the people tasked with making the Trump robot to do?
According to Motherboard, they're definitely adding him but they're not going to let him speak. Here's the relevant paragraph:
Motherboard spoke via email and phone to a source close to Walt Disney Imagineering—the research and development department behind Disney's theme park attractions. And according to the source, Donald Trump will be in the attraction, but he will probably not have a speaking role, unlike the three presidents immediately before him. The Imagineers will likely revert the attraction to its pre-1993 format, where the current president does not speak, while keeping the more realistic, grounded tone of the current show.
Reportedly, Trump has not been complying with Disney's requests to help anyway, so that could be leveraged as the public excuse for why his robot doesn't speak. Similarly, they could say that they want to cut down the running time of the whole thing.
Here's one more interesting tidbit: the Motherboard source said, "Given President Trump's current problems, Walt Disney World might elect to push the attraction's opening date back to the fall and then make further tweaks to the show."
[image: screengrab]
Have a tip we should know? tips@mediaite.com