Do As I Say, Not As I Eat? Questionable Questions Over Surgeon General's Weight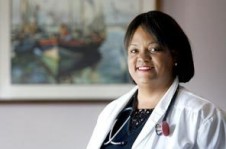 It's hard to know what to lead with here: That people think Regina Benjamin is too fat to be surgeon general, or that ABC News called Benjamin to find out what she weighs (she didn't return their calls).
The question of whether Benjamin is too overweight to be the nation's doctor appears to have begun in the comments section of various articles only to be picked up over at Salon's Broadsheet in a post titled: "Is Regina Benjamin too fat to be surgeon general?"
Salon's general conclusion is that her credentials speak for themselves. And then there's this from ABC News:
Dr. Regina M. Benjamin, Obama's pick for the next surgeon general, was hailed as a MacArthur Grant genius who had championed the poor at a medical clinic she set up in Katrina-ravaged Alabama. But the full-figured African-American nominee is also under fire for being overweight in a nation where 34 percent of all Americans aged 20 and over are obese.
*
Bloggers on Salon.com speculated that Benjamin is 40 pounds overweight, perhaps a size 18. The nominee didn't return calls from ABCNews.com, so there is no information about how much she weighs or her eating and exercise habits.
Does she owe us an explanation? Do as I say, not as I do, must be one of the most sacredly held tenants in Washington. And what of her formidable credentials?
She is an African-American family doctor who has spent most of her professional life serving the people of Bayou La Batre, a poor rural Alabama coastal community. She makes house calls, pays for patients' medicines, works for free when there is no money. She's had heaps of honors poured on her head , including a MacArthur genius award.
Can it be this sort of resume is no match for the numbers of a scale? Now might be a good time to point out that none of the last three Commanders-in-Chief have had any military experience. To the best of my knowledge Obama has no idea how to operate any of the equipment our military personnel use despite the fact he is ultimately in charge of all their movements. Is the case of Benjamin somehow so different? If so, perhaps someone should ask Lance Armstrong if he is up for the job.
Have a tip we should know? [email protected]