Does Marcus Bachmann Act As Michele's Stylist? 2006 Article Reports 'Good Sense Of Style'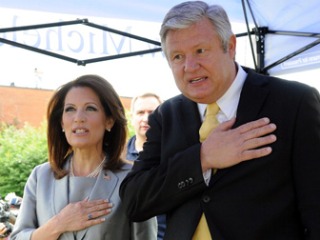 Marcus Bachmann is, for better or worse, currently having his moment in the spotlight. Michele Bachmann's husband has been the topic of much… idle speculation… related to accusations that his clinic assures homosexual patients that they can successfully "pray the gay away."
In light of those accusations and general musings about the Congresswoman's husband, an interesting anecdote first shared in 2006 has now been resurfacing across the web. Here's a report from the Chicago Tribune, first published on November 29, 2006, offering an in-depth look at Michele Bachmann's style:
Shopping help comes from another quarter, as well. Before Vice President Dick Cheney's visit this past summer, Bachmann's husband, Marcus, hit the stores — "he's got a good sense of style" — and came home with "a sleek, simple hourglass dress with a yoke collar in winter white." He even bought a matching coat and shoes. "I just slipped it on."
That tidbit has now appeared on several outlets, including (particularly?) sites devoted to tackling gay issues.
Is he or isn't he? I guess that's something for Bachmann, his wife and his God to know and perhaps live with in whatever way they deem appropriate, without (one hopes) hurting or misinforming others in the process.
But remember, kittens: A knowledge of and appreciation for fashion ≠ being gay. This is painful for me to admit, but I've known gay men who wear cargo shorts. I know! Obviously, I try to interact with them as little as possible, and not in public if I can help it. Also, do remember that Nancy Pelosi's husband also picks out his wife's clothing, as do many men with wives and girlfriends. In between arm wrestling matches and crushing beer cans on their own foreheads, of course.
Let's just be sure that, when we accuse others of promoting homophobia, we're not, in turn, revealing our own homophobic tendencies and adherence to heteronormative or gender-specific boundaries about what men and women should or shouldn't "be into." You know? That's just "bad for the brand." It undermines and dilutes calls for tolerance and understanding and reinforces stereotypes that people use to hurt and bully one another. If Marcus Bachmann is indeed a self-loathing gay man, as many allege, safe to say it's probably not related to knowing what clothing looks good on his wife.
h/t Chicago Tribune
h/t Towleroad
Have a tip we should know? [email protected]