Don Jr. Hits Back After Anderson Cooper Torches His Misleading Photo: Spent '10 Minutes Crying About a Meme'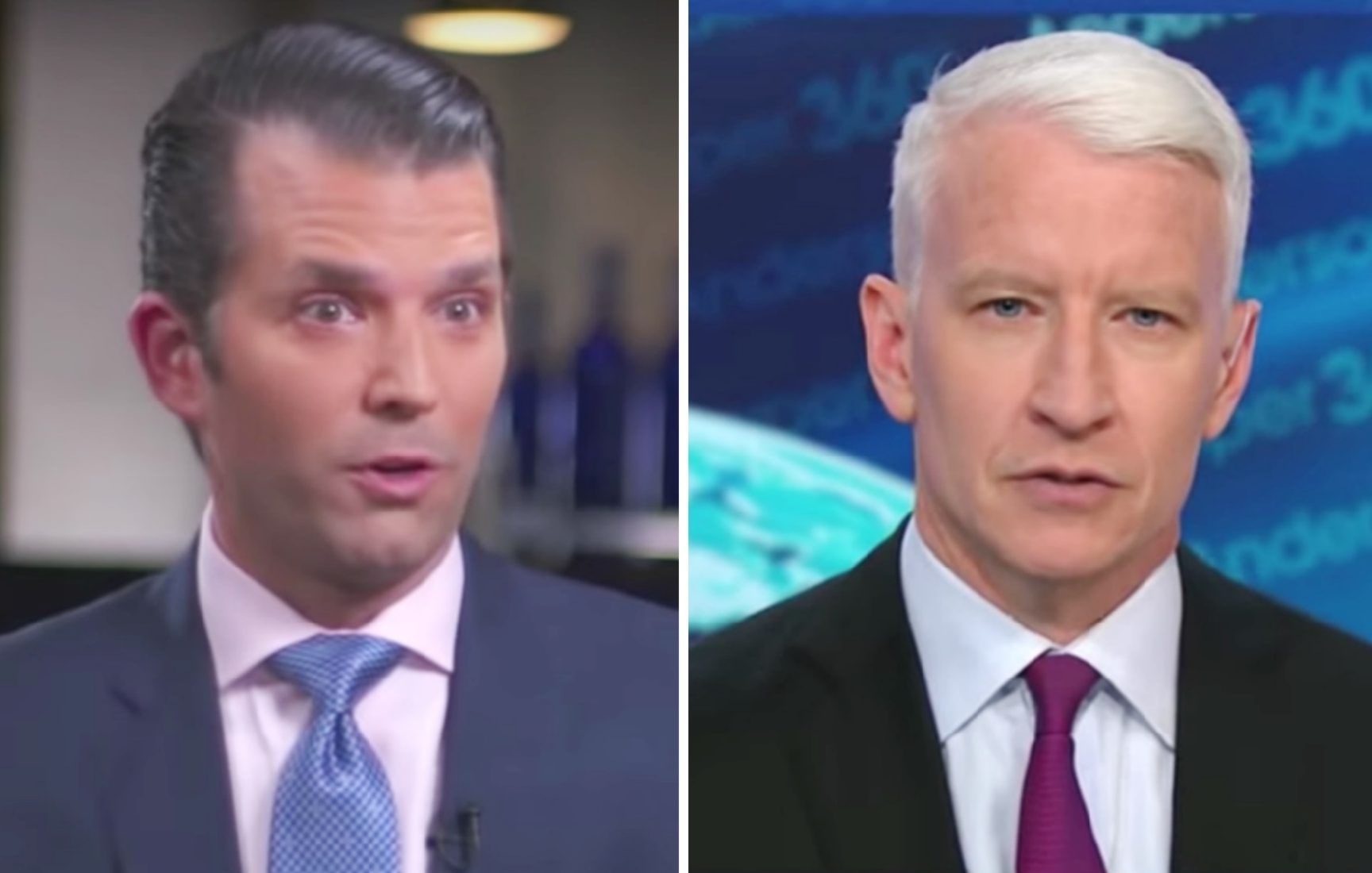 Donald Trump Jr. hit back at Anderson Cooper after the CNN anchor torched him Monday night on his broadcast for posting a misleading photo to Twitter.
In a tweetstorm posted Tuesday morning, President Donald Trump's son blasted Cooper for "crying about a meme." Cooper devoted a segment of Monday's show discussing a photo posted by Trump Jr. showing the CNN anchor waist-deep in water, with his crew off to the side in ankle-deep water. (The clear implication being that Cooper was exaggerating the extent of the damage.)
It's a shame that CNN's ratings are down 41%. What's worse is there's a simple solution that they refuse to accept. Stop Lying to try to make @realDonaldTrump look bad. https://t.co/O3XyWchsJh pic.twitter.com/BCUCxKnOvO

— Donald Trump Jr. (@DonaldJTrumpJr) September 16, 2018
Cooper clarified that the photo was 10 years old. It depicted his coverage of Hurricane Ike, not this past weekend's Hurricane Florence. He also played the clip of the coverage, which showed him walking in the water.
The president's son blasted Cooper — claiming the anchor lied by saying Trump Jr. billed the photo as a Hurricane Florence shot.
If you're going to spend 10 minutes crying about a meme you may want to make sure you're actually right. Good article as it shows exactly what CNN does daily to sell false truth. https://t.co/dp9W5SNxUG

— Donald Trump Jr. (@DonaldJTrumpJr) September 18, 2018
CNN doing what they do best.
Crying & Lying.@AC360 says I said it was a pic from Florence
Isaid no such thing.

"evidence" CNN provided doesn't even reference Florence. You guys can't even fact check a meme.

The illusion created by the pic is illustrative of the bs you sell! https://t.co/wnRSns1Thf

— Donald Trump Jr. (@DonaldJTrumpJr) September 18, 2018
Not surprised @AC360 lied about me on @CNN last night. Par for the course. I never said the pic of him was from Florence.

When I tweeted out the picture of @AC360 it was with a link to an article about CNN's dwindling ratings. Nothing to do with Florence. https://t.co/fflwOa10GK

— Donald Trump Jr. (@DonaldJTrumpJr) September 18, 2018
Trump Jr. is correct that Cooper did wrongly state that the president's son explicitly sold the picture as a Hurricane Florence shot. He did not.
Still, the timing of Trump Jr. posting that particular photo on the very same weekend of a major hurricane is highly curious, to say the least. Trump Jr. had never posted the image before. His choice of that particular photo to make a generic point about CNN at the same time of another hurricane is quite the coincidence.
[featured images via screengrab]
Have a tip we should know? tips@mediaite.com
Joe DePaolo - Senior Editor