Donald Trump (Candidate) Could Learn About Philanthropy From Donald Trump (Oncologist)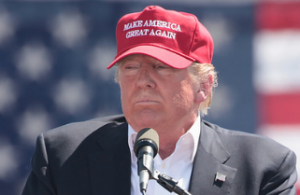 The relationship between business mogul Donald Trump and charity is complicated and confusing. Every few weeks, there are new stories about how he didn't actually donate to the legitimate charities he has claimed to. He's also been accused of using money from the charity that bears his name to purchase himself souvenirs, which is a big IRS no-no. The leader of the mission to uncover Trump's purported philanthropy — if it exists at all — is the Washington Post. You'll recall that Trump's son, Eric Trump, recently went off on them for continuing to poke around the issue.
WaPo recently uncovered something promising! A donation from Donald Trump to the Roswell Park Alliance Foundation, which supports a cancer center in Buffalo! Unfortunately, it was the wrong Donald Trump. The one who made the donation is an oncologist named Donald L. Trump. He goes by "Skip."
Skip, according to WaPo, has given almost $120,000 to charity in recent years. He said this:
It's trite, I know, but the way that I have done is my way of paying back for the benefits I have had…and hoping to facilitate others experiencing the same benefit … I sort of give what feels right. And I've been lucky to have some money that I can give.
Skip revealed that he reached out to the more famous Donald Trump for donations in the past and didn't get any money. However, Trump did reach out to Skip once to see if the son of a friend of his could get in on a clinical trial. At that time, Skip asked for a donation while he had Trump on the phone and got $30,000 from the Trump Foundation, which WaPo pointed out is "largely stocked with other people's money." Trump never donated to the institute again.
The article ended with this quote from Skip, which came after he was asked if he would ask the mogul for donations again in the future:
I'd love, maybe after November, when he's looking for things to do — maybe I'll have the chance to connect with him again.
Savage.
[image via Gage Skidmore]
For more from Lindsey: Twitter. Facebook.
This is an opinion piece. The views expressed in this article are those of just the author.