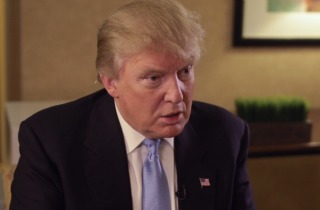 Donald Trump has yet to confirm his bid for the 2016 GOP candidacy, but he sat for an interview with CBN that gave serious indications on the possibility of his running. Trump stuck to his usual standard of bold responses to several issues before reaching his plan for reducing illegal immigration: build a fence across the border, and have Mexico pay for it.
Trump's interview came after a press conference he held in Iowa, and he described how people "just walk by" current border control. "We are taking hundreds of thousands of people. Some good people and some rapists and some killers and drug lords and everyone else and they are flowing through the southern border."
To this, the real estate mogul proposed his newest construction project: "I would build a wall like nobody can build a wall… Nobody can build a fence like me."
Interviewer David Brody commented that Trump has been advocating for a border wall for some time, and asked whether this was another instance of "'build a fence, build a fence' and nothing getting done." Trump responded with confidence, saying that "[he] builds great buildings all over the world", and that he would make the Mexican government pay for the construction.
"They will pay for it because they have really ripped this country off. They have really taken advantage of us both economically and at the border. They will pay for that fence." When the construction is finished, Trump says, "nobody comes in illegally anymore."
You can watch the interview here, via CBN.
[Image via Screengrab]
Have a tip we should know? [email protected]