Donald Trump Trashes Michelle Malkin On Twitter: You're A 'Dummy' And 'Were Born Stupid'
Trump Trashes Malkin On Twitter: You're A 'Dummy' And 'Were Born Stupid'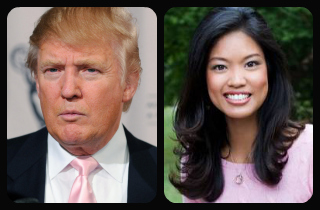 So… looks like Michelle Malkin and Donald Trump are having a good ol' Twitter spat.
Malkin's conservative Twitter aggregator site Twitchy took to calling the real estate mogul and recent CPAC speaker Trump a "conservafraud."

Shortly thereafter, Malkin took to Twitter — as she is wont to do — to ask Trump why he once called her a "dummy" and "smeared" her "past."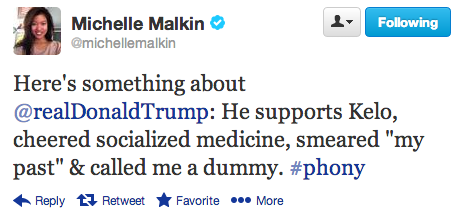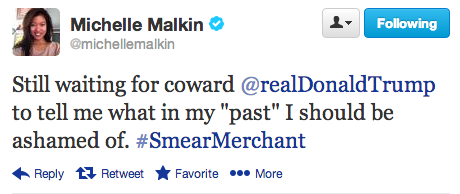 She noted for her conservative audience that Trump was a supporter of "socialized medicine" and an abuser of eminent domain (It's true — as I wrote last year, Trump is a "crony capitalist" who has, on multiple occasions, used government power to strong-arm others).
After a good 12-hour delay, Trump finally responded. And he did so in typically brash style, telling the conservative commentator that she is a "dummy" and was "born stupid":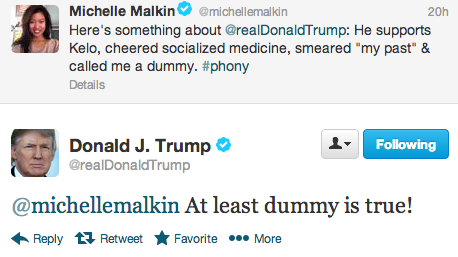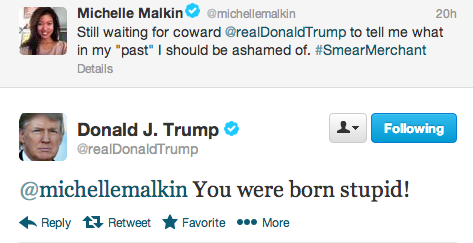 Grab the popcorn and a comfy chair. This ought to be a fun one!
– RELATED: Limbaugh Mockingly Compares Gay Marriage To Loving His Couch: 'If I Could Marry My Sofa, I Might Think About It'
UPDATE: The battle continues. Trump took another swipe at Malkin, claiming her career would be nothing if Fox News host Sean Hannity didn't see something in her. Malkin responded in kind: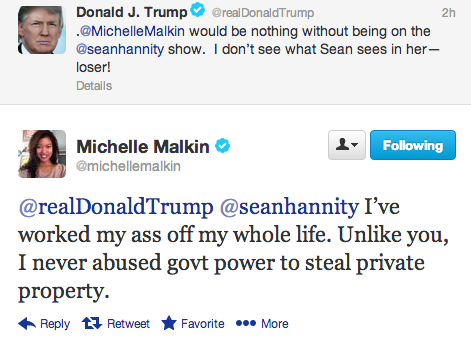 And then Trump reacted in the affirmative to a Malkin re-tweet laughing about how Trump could "crush" the conservative commentator if she "messes" with him: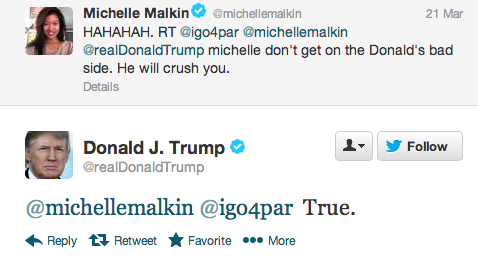 We're almost out of popcorn at this point. Might have to run to the store and refresh stock.
— —
>> Follow Andrew Kirell (@AndrewKirell) on Twitter
Have a tip we should know? tips@mediaite.com