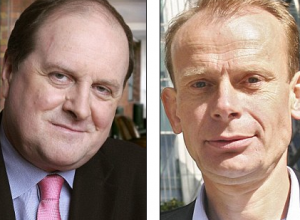 Chalk it up to Mondays? On the BBC this morning, Radio 4 presenter (and aptly named) James Naughtie was discussing an upcoming interview with UK Culture Secretary Jeremy Hunt. Yes, you can already see where this is going, can't you?
According to the Daily Mail, Naughtie stumbled over Hunt's name, and tried in vain to cover his mistake with a faux "coughing fit" before "disappearing from the airwaves for 20 minutes."
Listener Katie Norman said: 'He tried but failed to stifle his laughter.

'No-one helped him out. He just had to run through the headlines sounding like he wanted to cry with laughter.
'He said he was coughing but it was obvious he wasn't.'

Hunt was interviewed after the news by fellow presenter Evan Davis and Naughtie was not back on air before 8.20am with a light piece on Widdecombe's exit from Strictly Come Dancing.

After that item he apologised, blaming 'a certain Dr Spooner', a reference to Dr William Spooner who was notorious for inappropriately switching letters between words.
Jolly good, then. Moving right along. Only… not so much.
Later in the day another host attempted to discuss the morning's foot-in-mouth-moment without, you know, repeating it. And he didn't quite execute that very well:
Presenting his cultural discussion programme Start The Week, conversation on philosophy turned to the use of Freudian slips.

The former BBC political editor told his guests he would not repeat Naughtie's earlier remarks but then did just that while trying to say 'Jeremy Hunt, the Culture Secretary'.

He said: 'I must apologise for saying it again but it's just very hard to talk about it without saying it.'

His error provoked embarrassed laughter from his guests – choreographer Matthew Bourne, dance writer Jennifer Homans, journalist David Aaronovitch and psychotherapist Jane Haynes.

Comedian David Schneider Twittered his view to the second outburst, writing, 'Andrew Marr just done a C-word now. It's contagious. Radio Fourettes.'

A BBC spokeswoman said: 'James and Andrew regret what happened and have both apologised for their verbal tangles on air.

'These instances involved a slip of the tongue during a live broadcast, and we apologise for any offence caused.'
Now that I've put the word in your head, I'll remind you: let's be careful out there.
Listen below:
Have a tip we should know? tips@mediaite.com