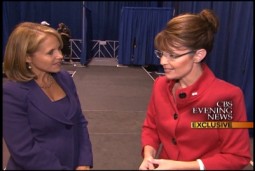 Add Drudge to the list of media outlets that has got its hands on Sarah Palin's Going Rogue. The top story on the site today links directly through an excerpt of the book, posted by Drudge, that details Palin's decision to do the now infamous Katie Couric interviews. Apparently Palin agreed to them because she felt sorry for Katie:
Nicolle [Wallace] went on to explain that Katie really needed a career boost. "She just has such low self-esteem," Nicolle said. She added that Katie was going through a tough time. "She just feels she can't trust anybody."

I was thinking, And this has to do with John McCain's campaign how?

Nicolle said. "She wants you to like her."

Hearing all that, I almost started to feel sorry for her. Katie had tried to make a bold move from lively morning gal to serious anchor, but the new assignment wasn't going very well.
Snap! The truth of the matter is that those Palin interviews did give Katie Couric a much-needed career boost, the fact they also almost entirely delegitimatized Palin as a viable candidate, and pulled the rug out from under the McCain-Palin campaign in the process isn't addressed in the excerpt. What is addressed is that apparently other than scheduling Couric McCain's staffers tried pretty hard to keep Palin under wraps where the media was concerned. Full excerpt below.


HER TURN!
Fri Nov 13 2009 07:27:12 ET

Going Rogue: An American Life
by Sarah Palin
Chapter Four; Section 8, pages 255-257

By the third week in September, a "Free Sarah" campaign was under way and the press at large was growing increasingly critical of the McCain camp's decision to keep me, my family and friends back home, and my governor's staff all bottled up. Meanwhile, the question of which news outlet would land the first interview was a big deal, as it always is with a major party candidate.

From the beginning, Nicolle [Wallace] pushed for Katie Couric and the CBS Evening News. The campaign's general strategy involved coming out with a network anchor, someone they felt had treated John well on the trail thus far. My suggestion was that we be consistent with that strategy and start talking to outlets like FOX and the Wall Street Journal. I really didn't have a say in which press I was going to talk to, but for some reason Nicolle seemed compelled to get me on the Katie bandwagon.

"Katie really likes you," she said to me one day. "she's a working mom and admires you as a working mom. She has teenage daughter like you. She just relates to you," Nicolle said. "believe me, I know her very well. I've worked with her." Nicolle had left her gig at CBS just a few months earlier to hook up with the McCain campaign. I had to trust her experience, as she had dealt with national politics more than I had. But something always struck me as peculiar about the way she recalled her days in the White House, when she was speaking on behalf of President George W. Bush. She didn't have much to say that was positive about her former boss or the job in general. Whenever I wanted to give a shout-out to the White House's homeland security efforts after 9/11, we were told we couldn't do it. I didn't know if that was Nicolle's call.

Nicolle went on to explain that Katie really needed a career boost. "She just has such low self-esteem," Nicolle said. She added that Katie was going through a tough time. "She just feels she can't trust anybody."

I was thinking, And this has to do with John McCain's campaign how?

Nicolle said. "She wants you to like her."

Hearing all that, I almost started to feel sorry for her. Katie had tried to make a bold move from lively morning gal to serious anchor, but the new assignment wasn't going very well.

"You know what? We'll schedule a segment with her," Nicolle said. "If it doesn't go well, if there's no chemistry, we won't do any others."

Meanwhile, the media blackout continued. It got so bad that a couple of times I had a friend in Anchorage track down phone numbers for me, and then I snuck in calls to folks like Rush Limbaugh, Laura Ingraham, Sean Hannity and someone I thought was Larry Kudlow but turned out to be Neil Cavuto's producer. I had a friend call Bill O'Reilly after I was inundated with supporters in Alaska asking why the campaign was "ignoring" his one-air requests for a McCain campaign interview. I had another friend scrambling to find Mark Levin's number. Aboard the campaign plane I was within twenty-five feet of reporters for hours on end. Headquarters' strategy was that I should not go to the back of the aircraft and talk to the press. At first this was subtle, but as the campaign wore on, Tracey or Tucker would call headquarters to request permission, and someone in DC would respond, "No! Absolutley not- block her if she tries to go back."
Have a tip we should know? tips@mediaite.com