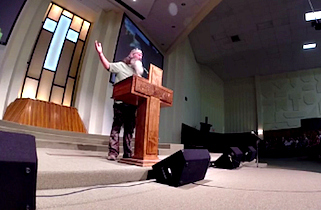 Duck Dynasty star Phil Robertson defended his controversial comments about homosexuality at an Easter Sunday church service in West Monroe, Louisiana. A video of the sermon has begun to circulate, showing Robertson describing his version of the interview with GQ's Drew Magary that got him suspended from his reality show last December.

"I gave some guy one list" of sins, Robertson said, referring to Magary. "You say, 'Were they made at you about that list?' They were mad at me…Cause instead of acknowledging their sin, like you had better do, they railed against me for giving them the truth about their sins. Don't deceive yourselves."
RELATED: LA Gov. Bobby Jindal to Appear on Duck Dynasty Season Premiere
"The news media didn't even know it was a verse!" he said. "They thought I was just mouthing off. 'Is homosexual behavior a sin?' The guy asked me. I said, 'Do you not know that the wicked will not inherit the kingdom of God? Don't be deceived.'"
"Neither the sexually immoral, nor the idolaters nor adulterers nor male prostitutes, nor homosexual offenders, nor thieves, nor greedy nor drunkards nor slanderers nor swindlers will inherit the kingdom of God," Roberts continued to applause. "I gave him the rest of the story."
A&E did not have a comment on the sermon.
Watch the video below, via Whites Ferry Road Church:
[h/t CBS Houston]
[Image via screengrab]
——
>> Follow Evan McMurry (@evanmcmurry) on Twitter
Have a tip we should know? tips@mediaite.com