Duck Dynasty's Willie Robertson Still 'Trying to Figure Out' if Being Gay Is a Choice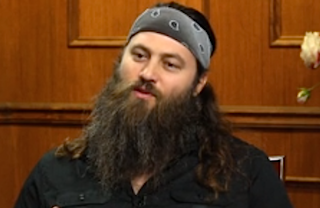 It's been exactly one year since GQ magazine published Duck Dynasty patriarch Phil Robertson's views on homosexuality, which essential co-opted the entire news cycle for the rest of 2013. Now, Phil's son Willie Robertson has given an update on where he stands on the gays to Larry King.
When King grilled the younger Duck Dynasty star about his reaction to his father's views, Robertson said, "Some of the things he said in that interview, I didn't agree with — and I've even said so." He added, "We love everybody… In this business, there are a lot of people who are gay."
But asked whether he believes being gay is a "choice," Robertson did not have a concrete answer. "Larry, I'm trying to figure that out right now. I really am since the controversy and since I know all these people — and if the thought is 'I'm born this way,'" he said. "I don't know. I'm trying to figure out myself through the passages, because I always have to look to the scriptures to see what's there and then I put it up against people — put my time in, so I've spent time with people."
"I'm not the judge," Robertson added. "God's going to be the judge, so it's not my job to convince people to change their lives — it's really through Jesus. If I just introduce them to Jesus, he'll do that."
While they could still be viewed as offensive to the LGBT community, Willie Robertson's comments are a far cry from those of his father, who told GQ, "It seems like, to me, a vagina – as a man – would be more desirable than a man's anus. That's just me." He also compared homosexuality to bestiality.
Watch video below, via Ora.tv:
[Photo via screengrab]
— —
>> Follow Matt Wilstein (@TheMattWilstein) on Twitter
Have a tip we should know? tips@mediaite.com