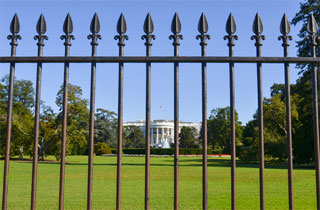 Today, the Department of Homeland Security released the executive summary of its report into the Secret Service, which came under fire this summer after a series of embarrassing security incidents, including a string of fence-jumpers and an intrusion into the White House. While the recommendations addressed obvious organizational issues — lack of resources, weak leadership, outdated technology — DHS said that the biggest priority is to fix that friggin' fence.

"As the Executive Branch, Congress, and the Service itself have all recognized, the fence must be addressed immediately," states the report — and, literally, this is the first recommendation the report makes. "Every
additional second of response time provided by a fence that is more difficult to climb makes a material difference in ensuring the President's safety and protecting the symbol that is the White House."
The report declined to give an exact aesthetic description of said fence, but acknowledged at the same time that the fence must "balance security concerns with the long and storied tradition of the White House being the 'People's House.'"
So the fence shouldn't be scary and non-American, but the fence should do its job as a fence:
A number of common-sense improvements should be explored. For sure, the fence must be taller; even an increase of four or five feet would be materially helpful. Horizontal bars, where climbers can easily place feet or hands, should be eliminated or placed where they provide little assistance. The top of the fence can also be manipulated in certain ways-such as including curvature outward at the top of the fence–to make scaling it much more difficult for most.
"Any of these adjustments, the Panel is certain, can be made without diminishing the aesthetic beauty or historic character of the White House grounds," Martha Stewart the report concluded.
Though the fence was breached this year by pranksters and babies, it became a legitimate security issue after a mentally ill man jumped the fence and entered the White House with a knife this summer, only being subdued after he made it all the way into the East Room.
The Secret Service's incompetence became a bipartisan issue as a result, with members of both parties successfully calling for the resignation of Director Julia Pierson, and suggesting ideas even better than fences: "Would a moat, water six feet around, be kind of attractive and effective?" a Congressman actually asked at one point.
Sadly, the DHS did not recommend a moat deterrent, but you can read the rest of their recommendations here.
[Department of Homeland Security]
[Image via Shutterstock]
—
>> Follow Tina Nguyen (@Tina_Nguyen) on Twitter
Have a tip we should know? tips@mediaite.com