Egypt's el-Sisi, Turkey's Erdoğan and Miley Cyrus Vie for TIME's Person of the Year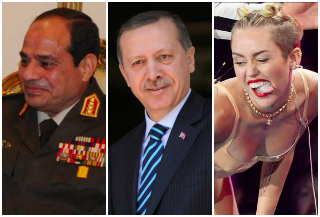 Who will be TIME Magazine's Person of the Year for 2013? With less than 36 hours to go until the polls close, there are three major frontrunners who are currently neck-and-neck-and-neck As of 2pm ET on Tuesday, December 3rd, Egyptian defense minister Abdel Fattah el-Sisi is leading with 20.4%, Turkish Prime Minister Recep Tayyip Erdoğan is second with 19.4% and 21-year-old pop star Miley Cyrus is right behind them with 17.9%.
Here's how the poll results currently break down: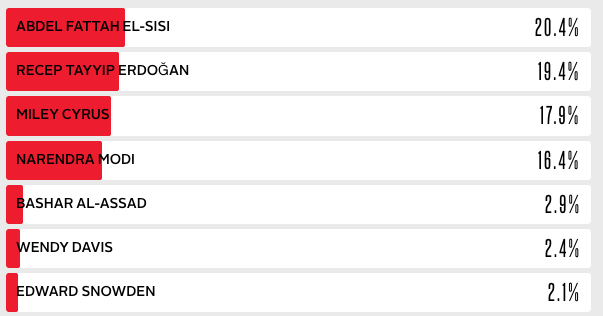 As TIME indicates clearly, it's the editors and not the readers who will ultimately pick the Person of the Year, but they still want to know who "you think most influenced the news this year for better or worse."
With the polls closing at 11:59pm on Wednesday, December 4th before the winner is announced on December 11th, the only other candidate with a chance of topping the reader poll is Hindu nationalist and Chief Minister of the Indian state of Gujarat, Narenda Modi. Other pop culture figures, such as Jimmy Fallon, Angelina Jolie and Vince Gilligan are far below in the single digits or lower.
Not even Syrian president Bashar al-Assad could break into the double-digits with just 2.9% of the vote. And as far as the international community is concerned, he used chemical weapons on his own people. Apparently, that's not as significant as twerking at the MTV Video Music Awards.
Politicians and other serious-minded figures have tended to dominate the winners list over the last several years with President Barack Obama winning twice in 2008 and 2012 with Russian President Vladimir Putin and Federal Reserve Chairman Ben Bernanke also making recent appearances.
Of course, the magazine also has a tendency of late to think outside the box and go with something other than a single, real person, picking "You" in 2006 and "The Protester" in 2011. For all we know, 2013's Person of the Year could be "The Health Care Exchange Website."
[photos via Wikimedia Commons, screengrab]
— —
>> Follow Matt Wilstein (@TheMattWilstein) on Twitter
Have a tip we should know? tips@mediaite.com