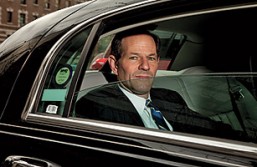 This is a well-timed profile. Time has a piece on Eliot Spitzer in their upcoming issue and while they couldn't have known at the time (about a month ago) what a total disaster New York State politics would be when the issue hit stands, it's hard not to read it and get the sense that making another run for office is in the back of his head…or considering this week's relentless news, perhaps in the front of it!
Spitzer may not be starring in a television series yet, but he is bored out of his mind. ("When you have nothing to do all day, you eventually start yelling from the rafters," he blurted when I first called him.) He is also frustrated, restless and desperate to get back into the arena but unsure how to do it or if it's even possible, given the immense baggage he would bring to any new endeavor. He was one of the most driven politicians in America, a rocket powered by ambition and hubris. Now he's like one of those windup cars stuck on the edge of the carpet, its motor grinding away, threatening to flip over.
This is not a man content to sit on the sidelines for long. Also, he still harbors white-hot anger at Wall St. — and is apparently less than impressed by Obama's handling of the crisis — which may not endear him to Wall St. (or Washington) but might assuage many voters whose number one concern is still the economy. Meanwhile, he's signing autographs in midtown restaurants. I don't know, it'd be an uphill battle for sure, and likely hell on his family, but if I were Andrew Cuomo I would maybe be edging my way to the Governor spotlight a bit faster than in weeks past.
Read more: http://www.time.com/time/nation/article/0,8599,1969595,00.html#ixzz0hDOT9Irh
http://www.time.com/time/nation/article/0,8599,1969595,00.html
Have a tip we should know? tips@mediaite.com