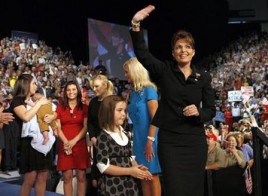 Apparently, Sarah Palin wants to make the reality show that has been her tour de force through media land these last 18 months official. It was reported last night that Palin and producer Mark Burnett (the man responsible for Survivor, among other things) spent yesterday shopping a reality show around LA.
This is how the Hollywood Reporter described the show: "Palin and her family would be followed on-camera in the show, which one network executive described as "'Planet Earth' meets Alaska meets her family." So basically an extended version of every trip the media has made to Alaska to report on the doings of Palin.
News of the show comes as less of a surprise than it might have a few days ago before Palin's impressive appearance on Jay Leno the other night. It's hard to argue this woman is not a total natural in front of the camera, and it's long been rumored that she's had her eye on some sort of television talk show. What this means for future political plans is unclear: this is either a genius stab at what could feasibly be an early national campaign of sorts — a bit like her Facebook page come to life — that ideally would then segue into an actual one. Or, a manifestation of the only thing that's ever interested Palin about politics in the first place — namely, the platform and the cameras — and a reality show would satisfy both…and then some. Who knows. At this point its probably not best to underestimate Sarah Palin. Also, is Palin going to the Oscars?
Update: Politico is reporting that the show Palin is shopping has nothing to do with the Palins: "A source close to Palin says it is NOT a reality show of any sort, and NOT about her family, as some Hollywood media have speculated. It is about the people, geography, wildlife and wonders of Alaska." Very disappointing if true.
Related: Media Genius Sarah Palin No Longer Taking Questions From Reporters?
Have a tip we should know? tips@mediaite.com