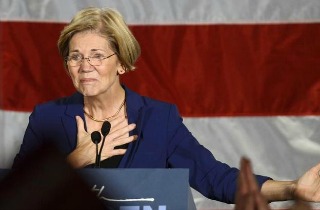 A new book authored by progressive icon Sen. Elizabeth Warren (D-MA) reveals her insider accounts of her interactions with President Barack Obama and his staff. According to The Boston Globe, which obtained an early copy of the book A Fighting Chance, Warren reveals a series of interactions with Obama and his staff that were at times tense and, on one occasion, borderline sexist.

The Globe opens their review of the book by detailing a "tense conversation" that occurred between Obama and Warren in which the president attempted to convince then Harvard University professor Warren to help create an agency she had originally proposed, the Consumer Financial Protection Bureau.
"You're jamming me, Elizabeth," Warren recalls Obama telling her after noting that she makes both congressional Republicans and financial professionals "very nervous."
"Sometimes you have to trust the president,'' he continued, to which Warren relented.
After legislation was passed creating the CFPB, Warren was informed that some named and unnamed advisors close to Obama opposed her as the nominee to head that department. One unnamed advisor to the president reportedly told Warren that her role would be a "cheerleader" for the new agency.
"I assume that was meant as a metaphor, but I had to wonder: Cheerleader?" Warren wrote. "Would the same suggestion have been made to a man in my position? I did not rush out to buy pom-poms."
The Globe notes that the "campaign-style" book will "stoke more calls" for the freshman senator to mount a presidential bid in 2016. The Globe quotes one San Francisco-based Democratic political consultant who said Warren's book "will be on the syllabus of every reporter covering the presidential election in 2016."
[photo via Gretchen Ertl/Reuters]
 — — 
>> Follow Noah Rothman (@NoahCRothman) on Twitter
Have a tip we should know? tips@mediaite.com