Email: State Dept Official Close to Hillary Informed Benghazi Was Terrorist Attack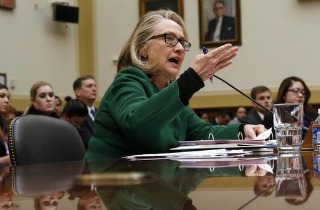 In the trove of recently released emails pertaining to the White House's response to the attack on a consulate in Benghazi in 2012, one email casts doubts on the administration's early insistence that diplomatic and intelligence agencies initially believed a video-inspired protest led to the Benghazi attacks.
According to one of the recently released emails, Beth Jones, the former Acting Assistant Secretary of State to former Sec. Hillary Clinton, sent an email to her colleagues warning them on the morning after the attack that an al Qaeda-affiliated group was likely responsible for the assault on American diplomatic and CIA facilities.
According to a report from former CBS journalist Sharyl Attkisson, linking to an email hosted on Rep. Jason Chaffetz's (R-UT) official website, Jones warned key State Department officials that she had been informed the attack was linked to an al Qaeda group.
"When [the Libyan Ambassador] said his government suspected that former Qaddafi regime elements carried out the attacks, I told him the group that conducted the attacks—Ansar al-Sharia—is affiliated with Islamic extremists," Jones wrote in the email sent on September 12, 2012, at 12:46 p.m.
"According to the email, Jones spoke to Libya's Ambassador at 9:45am on Sept. 12, 2012 following the attacks," Attkisson wrote. Jones' assessment of the situation in Benghazi does not make any mention of a protest or the inflammatory YouTube video.
Another State Department email sent at 5:55pm on Tues. Sept. 11, 2012, while the attacks were underway, includes a report that "the extremist group Ansar Al Sharia has taken credit for the attack in Benghazi" and that U.S. officials asked the offices of the [Libyan] President and [Prime Minister] to pursue Ansar al Sharia."
Among the individuals who received this email were current Assistant Secretary of State Victoria Nuland, Vice President Joe Biden's current National Security Advisor Jake Sullivan, Deputy Secretary of State William Burns, and Under Secretary for Political Affairs Wendy Sherman.
[Image via Kevin Lamarque/Reuters]
— —
>> Follow Noah Rothman (@NoahCRothman) on Twitter
Have a tip we should know? tips@mediaite.com