Email: The Atlantic Reporter Agreed to Tailor Article to Clinton Spokesman's Demands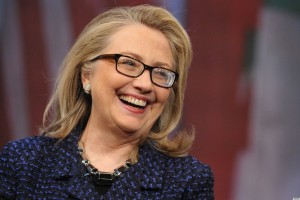 An email obtained by a Gawker via FOIA request details how a reporter for The Atlantic agreed to a write an article that was tailored to then-Secretary of State Hillary Clinton's specific demands.
In 2009, The Atlantic's Marc Ambinder emailed Clinton spokesman Philippe Reines asking for the text of a foreign policy speech Clinton was set to deliver later that day. "On two conditions," Reines replied.
Ambinder agreed to the conditions before hearing what they were, responding "Ok." Reines then laid out the conditions ("three, actually"):
1) You in your own voice describe them as "muscular"

2) You note that a look at the CFR seating plan shows that all the envoys — from Holbrooke to Mitchell to Ross — will be arrayed in front of her, which in your own clever way you can say certainly not a coincidence and meant to convey something

3) You don't say you were blackmailed!
In the lede to Ambinder's published piece, he appears to have followed Reines' request to a tee:
When you think of President Obama's foreign policy, think of Secretary of State Hillary Clinton. That's the message behind a muscular speech that Clinton is set to deliver today to the Council on Foreign Relations. The staging gives a clue to its purpose: seated in front of Clinton, subordinate to Clinton, in the first row, will be three potentially rival power centers: envoys Richard Holbrooke and George Mitchell, and National Security Council senior director Dennis Ross.
In an email to Gawker, Ambinder told them he now regretted the decision to engage in "transcactional" journalism. "It made me uncomfortable then, and it makes me uncomfortable today. And when I look at that email record, it is a reminder to me of why I moved away from all that."
[Image via screengrab]
——
>>Follow Alex Griswold (@HashtagGriswold) on Twitter
Have a tip we should know? tips@mediaite.com