Emails Show DNC Chair's Annoyance at Sanders: 'He Has No Understanding of What We Do'
Wasserman Schultz Called Sanders Campaign Manager an 'Ass'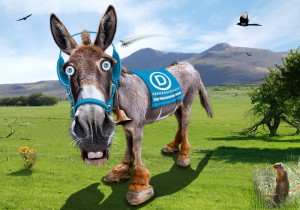 The trove of leaked emails from the DNC reveal that, in the waning months of the Democratic primary, the party chairwoman grew exasperated by Sen. Bernie Sanders, his campaign's tack of accusing the DNC of foul play, and his refusal to bow out of the race.
Reacting to a report that the Vermont senator said the party had not been fair to him, DNC Chair Debbie Wasserman Schultz said, "Spoken like someone who has never been a member of the Democratic Party and has no understanding of what we do."
When Sanders predicted at the beginning of May that the Dems could be headed for a contested convention, Wasserman Schultz wrote, "So much for a traditional presumptive nominee."
In a May 18 email, she said that CNN had aired or re-aired an interview with Sanders Campaign Manager Jeff Weaver. "They are very good at deflection and redirecting criticism of them on someone else. We cannot allow them to get away with that. We need other voices here. And I will refocus as we discussed," she wrote.
When Weaver said that the campaign intended to go to the convention, Wasserman Schultz wrote, "He is an ASS."
Several emails show the DNC's efforts to set the narrative straight following the chaotic Nevada Democratic Convention, the aftermath of which devolved into an ugly feud between the Sanders camp and the DNC.
"This headline needs to be changed," Wasserman Schultz wrote, referring to a story in RealClearPolitics. "This convention was not run by the DNC or DNC leaders. It was run by the Nevada Democratic Party." The headline was adjusted.
Emails show the DNC's efforts not to stoke a narrative of animosity between Sanders and DNC. Providing feedback after a television interview, DNC Communications Manager Luis Miranda advised Wasserman Schultz, "Just please remember to never repeat a negative question, at the beginning when Heilemann said 'Why is Berne Sanders wrong' it would have been better to not repeat 'Bernie Sanders is wrong.' It was good at the end that you pointed out we welcomed him and glad he ran as a Democrat."
"Every time they get caught doing something wrong, they use the tactic of blaming me. Not working this time," she wrote on May 18, in response to a New York Times report that Sanders was alienating party leaders.
When Sanders told CNN's Jake Tapper that he would not appoint Wasserman Schultz as chair of the DNC, she commented on May 21, "This is a silly story. He isn't going to be president."
These emails represent a fraction of the over 19,000 emails from top DNC officials that were made public via Wikileaks Friday morning. The emails cover the time period between Jan. 2015 and May 25 of this year. Other emails include a DNC official floating a plan to push a conversation about Sanders' religion in an effort to injure his performance in Kentucky and West Virginia contests.
We reached out to the DNC for comment and will update if we hear back.
—
[image: DonkeyHotey via Flickr]
Sam Reisman (@thericeman) is a staff editor at Mediaite.
Have a tip we should know? tips@mediaite.com