Embarrassing: Columnist Sees 'Racism' in Miley Cyrus' Twerking 'Minstrel Act'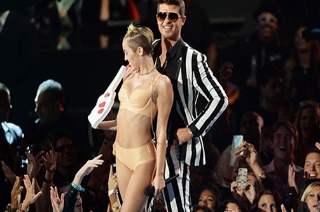 Here is a theory: the linguistic and rhetorical devices that serve as passwords granting access into the modern academic speakeasy are employed more ostentatiously as the institution of social scholarship loses stature. Institutions of all stripes are held in increasingly low regard by the majority of Americans, but the decline of the general prestige of academia is especially lamentable. Overthinking has become a celebrated pastime in socio-academic thought. It is Freudian in its practitioners' ability to divine the true motives lurking in the furtive subconscious of every actor. For these deep thinkers, knowing what you're thinking better than you do is tradecraft and a cigar is almost never just a cigar.

What makes this academic overthought a profitable enterprise is that it can be applied to virtually every aspect of modern day life. The media universe is today equal parts enthralled and appalled by the dancing of 20-year-old Miley Cyrus. The political right and left, those with young and impressionable children at least, are disturbed and/or disappointed in the former child starlet because she performed a series of salacious jiggles on television at the Video Music Awards.
However, some have explored their revulsion over Cyrus' actions and made fools of themselves. Take Vulture columnist Jody Rosen, for example. Rosen is a seer. He saw what no one else saw in Cyrus' actions. Through his perceptual acumen and years of scholarly training, Rosen identified historical themes of the racial subjugation of African-Americans in Cyrus' jiggling.
"[T]he shock that Cyrus was peddling wasn't sex. It was all about race," Rosen wrote, priming his readers for maximum shock.
"Cyrus has spent a lot of time recently toying with racial imagery," he adds, revealing the disturbing fact that he sees racial imagery everywhere.
"Cyrus twerking her way through the video for her big hit 'We Can't Stop,' professing her love for 'hood music,' and claiming spiritual affinity with Lil' Kim," Rosen continues. "Last night, as Cyrus stalked the stage, mugging and twerking, and paused to spank and simulate analingus upon the ass of a thickly set African-American backup dancer."
If you're keeping score, Cyrus is "toying with racial imagery" by virtue of her being a fan of and collaborating with African-American artists and by performing hyper-sexualized dancing with one of her black backup dancers. But this workmanlike presentation of damming evidence continues:
"Her act tipped over into what we may as well just call racism: a minstrel show routine whose ghoulishness was heightened by Cyrus's madcap charisma, and by the dark beauty of "We Can't Stop" — by a good distance, the most powerful pop hit of 2013," Rosen adds.
A doctoral dissertation could (and will) be written on the racial, class, and gender dynamics of Cyrus's shtick. I'll make just one historical note. For white performers, minstrelsy has always been a means to an end: a shortcut to self-actualization. The archetypal example is in The Jazz Singer (1927), in which Al Jolson's immigrant striver puts on the blackface mask to cast off his immigrant Jewish patrimony and remake himself as an all-American pop star.
Rosen was correct to warn his readers of impending shock. He is probably correct that a "doctoral dissertation could (and will) be written" about Cyrus' coded racism. This revealing and horrifying truth about what modern academia rewards is especially embarrassing. Rosen seems not to recognize, however, how he is parodying himself and his colleagues with this admission.
"Cyrus's twerk act gives minstrelsy a postmodern careerist spin," he concludes. "Cyrus is annexing working-class black "ratchet" culture, the potent sexual symbolism of black female bodies, to the cause of her reinvention: her transformation from squeaky-clean Disney-pop poster girl to grown-up hipster-provocateur."
(Want to wipe away the sickly-sweet scent of the Magic Kingdom? Go slumming in a black strip club.) Cyrus may indeed feel a cosmic connection to Lil' Kim and the music of "the hood." But the reason that these affinities are coming out now, at the VMAs and elsewhere, is because it's good for business.
Just as for all those who spend most of their waking moments in the campus faculty lounge or the student union, the chorus of mockery directed at Rosen will be dismissed outright by him and his supporters. Rosen's is a virtuous opinion if only because it is derived from years of acculturation into the insular worldview of the university, which often admonishes those who default to the simplest explanation to explain the world around them. The increasingly complex historical boundaries which govern behavior cannot be understood by those that behave, but only by those who study that behavior. That complexity justifies the existence of the social scientists that identify it.
The world is a complex place and its study is a noble thing. But sometimes, the simplest explanation really does suffice. Sometimes a cigar really is just a cigar and twerk is just a twerk.
—
> >Follow Noah Rothman (@NoahCRothman) on Twitter
Have a tip we should know? tips@mediaite.com