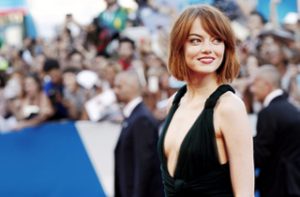 Emma Stone is on the cover of the new issue of Rolling Stone and in her interview, she's getting candid about everything from her anxiety-ridden childhood to sexism in Hollywood to- what else- the recent Presidential election.
Stone talked about how, growing up, her anxiety was at times crippling. "I would ask my mom a hundred times how the day was gonna lay out. What time was she gonna drop me off? Where was she gonna be? What would happen at lunch? Feeling nauseous. At a certain point, I couldn't go to friends' houses anymore – I could barely get out the door to school."
She said that therapy was helpful for her, but so was performing. She began doing improv and sketch comedy. "You have to be present in improv, and that's the antithesis of anxiety," she told the mag. And she was good at it. When she was 14, she convinced her family (with a PowerPoint presentation, no less) to let her move to Hollywood to pursue acting as a career.
It hasn't always been easy, however. "There are times in the past, making a movie, when I've been told that I'm hindering the process by bringing up an opinion or an idea." She continued, saying,"I hesitate to make it about being a woman, but there have been times when I've improvised, they've laughed at my joke and then given it to my male co-star. Given my joke away." She also said that she's sometimes brought up when she didn't think a particular joke was working. She says she's been told "'Just say it, just say it, if it doesn't work we'll cut it out' – and they didn't cut it out, and it really didn't work!"
On the election, she feels the way a lot of Hollywood seems to about a Donald Trump Presidency. "It's still so hard to process what happens next, or what to do… It's terrifying, the not-knowing."
Check out the full interview here.
[image via Andrea Raffin / Shutterstock.com]
Have a tip we should know? tips@mediaite.com