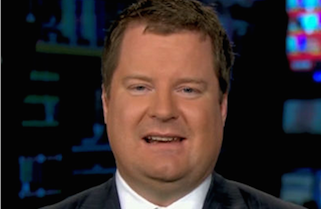 Yesterday, Texas Governor Rick Perry admitted that he "stepped right in it" when he compared alcoholism to homosexuality at an event in San Francisco last week. But just because he's stepping back from his own remarks doesn't mean conservative pundit Erick Erickson is going to stop defending them.
On his Red State blog Friday, Erickson came to Perry's defense, boldly stating, "I largely agree with Governor Rick Perry and appreciate him speaking up."
Erickson predicted that his post would cause a "sh-tstorm" and that he would be attacked by the "gay mafia" but apparently felt it was his duty to stick up for Perry even after the governor basically took his comments back.
After an extended diatribe that quoted God and Gertrude Himmelfarb in equal measure, Erickson came to his conclusion:
In the United States today, there is vastly more energy spent on shutting up the Truth and distorting it than in boldly telling it.

When those who are willing to speak Truth back to the sound and fury of the age get attacked, silenced, and ridiculed, those of us who agree and are able should speak up and say we agree.

So thank you Governor Perry for being a voice in the wilderness of the present madness that has enveloped society.
In Erickson's estimation, the only reason Perry would have distanced himself from his own words is because the "gay mafia" forced him to. When Perry expressed that he should have just said "we need to be a really respectful and tolerant country to everybody," was he just hiding his real, capital t "Truth?"
Watch the video of Perry addressing his remarks, via The Hill, and decide for yourself:
[Photo via screengrab]
— —
>> Follow Matt Wilstein (@TheMattWilstein) on Twitter
Have a tip we should know? [email protected]