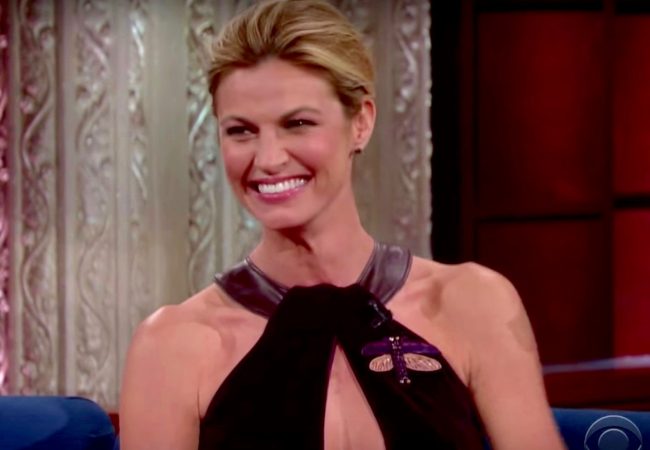 Fox NFL sideline reporter Erin Andrews has battling cervical cancer this season in secret, a new story revealed Tuesday.
According to the Monday Morning Quarterback, a football-focused vertical of Sports Illustrated, Andrews received the diagnosis in late-September, several days before a game between the New York Giants and the Washington Redskins.
But despite the diagnosis, Andrews insisted on showing up each Sunday to work Fox's game of the week.
"I'm not watching any football games at home," Andrews reportedly told her oncologist. "This is [Fox's] Super Bowl year, and I'm not missing the Super Bowl."
Andrews did miss two tapings of ABC's Dancing With The Stars, her other network gig. But she did not miss any NFL games — including one which took place the same week she had surgery.
"Should I have been standing for a full game five days after surgery? Let's just say the doctor didn't recommend that," Andrews said. "But just as I felt during my trial, sports were my escape. I needed to be with my crew."
After her initial surgery on Oct. 11, she returned for another procedure on Nov. 1. And then, on Nov. 17, she was told there was no need for chemotherapy or radiation.
Andrew admitted to having tough moments during her ordeal, but eventually gained a positive outlook.
"After the trial everyone kept telling me, 'You're so strong, for going through all of this, for holding down a job in football, for being the only woman on the crew," Andrews said. "Finally I got to the point where I believed it too. 'Hey, I have cancer, but dammit, I am strong, and I can do this.'"
[featured image via Shutterstock.com, above image via screengrab]
–
Follow Joe DePaolo (@joe_depaolo) on Twitter
Have a tip we should know? tips@mediaite.com
Joe DePaolo - Senior Editor