ESPN's Offers Absurd Explanation For 'Editing' Out Fired Analyst Curt Schilling's Amazing Game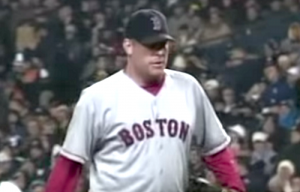 In an industry full of allegedly bright, articulate, hard-working people, more than a few in positions of power act like children. This appears to be especially true at the Worldwide Leader in Sports known as ESPN, where grudges are carried out so far that history is literally erased before our eyes.
Exhibit A today involves the recently-very-publicly-fired Curt Schilling, a former major league pitcher, perhaps future Hall-of-Famer, and Boston Red Sox icon. Schilling earned such lofty status in the positively-magical October of 2004 when the Sox went on an impossible postseason run of eight straight victories… four of which first coming after trailing the evil (and loaded) Yankees 3-0 in the American League Championship Series. No other team had ever erased that kind of deficit in Major League history. Boston pulled it off against a team that had been to the World Series six of the previous eight years, winning four times. We'll never see anything like it again.
To review, Boston would tally two come-from-behind victories to eventually win in extra inning innings to take Games 4 and 5 at home before going back to New York. Game 6 featured a hobbled Schilling on the mound, who was battling a painful ankle injury that required a wayward tendon to sewn back into his ankle. The result? A visibly bloody sock that would be shown a few dozen times on television that night and a wet mound for a gimpy Schilling to contend with on a cold, drizzly night at the old stadium in the Bronx. You know the rest from there: Schilling guts out an incredible performance on the road to basically shut down the best offensive team in baseball (seven innings pitched, just one run allowed) and the Sox would go on to win the ALCS and eventually its first World Series since 1918.
There were many key moments in this incredible run… the Dave Roberts steal off Mariano Rivera in Game 4 in the bottom on the 9th to set up the tying run… David Ortiz's clutch hitting Games 4 & 5… winning each game in walk-off fashion. But ask any Red Sox fan what they remember most about that series, and a majority will point to Schilling's performance and the bloody sock to get them to a Game 7 they would win going away, with some even ranking it above the World Series clincher in St. Louis to officially end The Curse.
As you've read here and elsewhere, Schilling was fired from ESPN two weeks ago for comments the company and others perceived as anti-transgender. Support Schilling's right to free speech or argue the way the network runs its shop and handles its talent… that's not what this column is about. Instead, here's the big question: Is ESPN so petulant, so arrogant, that it thought editing out Schilling's bloody sock game from its 30-for-30 documentary, Four Days in October, was actually a good idea?
ESPN says the edit was done due to time constraints: "When a live event runs long, it's standard procedure to shorten a taped program that follows. In this case, we needed to edit out 1 of the film's 4 segments to account for the extra length of the softball game," the network said in the statement.
Uh-huh. So out of the entire 53 minutes of the doc, the expendable portion — the one that wasn't important to the story — was determined to be what many Red Sox fans would say was one of the most memorable performances in the team's 115-year history in the form of Schilling pitching through pain and blood in a hostile environment while silencing an awesome Yankee offense? When compared to most iconic moments in baseball history, this was the rarefied stuff legends are made of.
But time constraints? This is the equivalent of editing Donald Trump out of a documentary that looks back on the primary season thus far…
And for ESPN to try to pretend it never happened all to carry out a grudge against a former employee?
Bush league stuff from an increasingly bush league network… apparently run by children.
>>Follow Joe Concha on Twitter @JoeConchaTV
This is an opinion piece. The views expressed in this article are those of just the author.