Evangelical Legal Org Liberty Counsel Touts 'Most Conservative GOP Platform in History'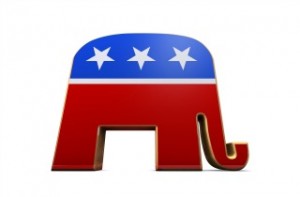 Liberty Counsel is touting the GOP's newly adopted platform, which has lurched into the far right on issues like abortion, gay rights, and the repeal of ObamaCare, as the "most conservative" in history.
The imprimatur from Liberty Counsel is significant. In describing the platform as uniquely conservative in the party's recent memory, the evangelical nonprofit echoes numerous news reports and a New York Times editorial published Monday.
Liberty Counsel is a socially conservative legal organization founded by Mat Staver. Staver has litigated a number of prominent legal battles against marriage equality. He represented Kentucky county clerk Kim Davis in her fight last year over the right to deny marriage licenses, and currently represents Chief Jurist of Alabama Roy Moore, currently the subject of an ethics violation complaint for ordering probate judges not to issue licenses for gay couples.
The enthusiastic announcement strikes a different chord that a cautiously optimistic article published by a Liberty Counsel executive in Jan. 2014, which lamented the fact that the "GOP's RINO establishment still controls its legislative reins," and expressed concern about the party abandoning conservative values.
Tuesday's press release, by contrast, struck a chord of unalloyed victory. "This platform includes a strong affirmation of life, marriage, and religious liberty. The platform calls for the defunding of Planned Parenthood and the repeal of ObamaCare. It calls for the repeal of the 1954 Johnson amendment that seeks to prevent churches and pastors from endorsing candidates. The platform rejects the LGBT agenda and calls for action against activist judges," said Staver.
Staver also noted that an "attempt to push same-sex marriage and the LGBT agenda was soundly defeated."
The GOP platform condemns both Supreme Court decisions that advanced marriage equality, namely, the Windsor decision of 2013, which struck down the Defense of Marriage Act, and the Obergefell decision in 2015, which ruled that same-sex marriage bans were unconstitutional. The platform also includes language, introduced by Family Research Council president Tony Perkins, that allows for parents to pursue "conversion therapies" for LGBT children. Log Cabin Republicans issued a statement last week condemning the platform the most anti-LGBT Platform in the Party's 162-year history.
The platform also includes strict language against abortion, which, as in the previous platform, does not make allowances for the health of the mother or in cases of rape.
Have a tip we should know? tips@mediaite.com