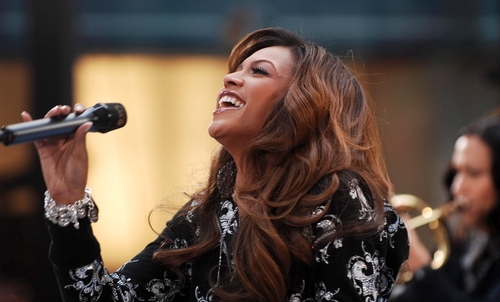 Today, Beyoncé announced that she is pregnant. In fact, she's pregnant with twins!
The news overtook pretty much everything this afternoon. It even took attention away from Sean Spicer's briefing at the White House, which happened moments after the announcement dropped.
Somebody better hand a note to Spicer about Beyonce

— Jim Acosta (@Acosta) February 1, 2017
In light of everything that's been going on in the news, a little levity felt much-needed and was celebrated in national newsrooms…
Sean Spicer is–nevermind BEYONCE IS HAVING TWINS

— Kasie Hunt (@kasie) February 1, 2017
My timeline is such a breath of fresh air right now. #Beyonce

— Katie Hawkins-Gaar (@katiehawk) February 1, 2017
This is mostly a work Twitter account BUT CONGRATULATIONS BEYONCÉ AND JAY!!

Twins go together like Nike Airs and Crisp Ts…

— Ari Melber (@AriMelber) February 1, 2017
Twins? Beyoncé freakin copies everything that I do.

— John Berman (@JohnBerman) February 1, 2017
For the first time in awhile, this is me, looking at Twitter. #Beyonce pic.twitter.com/Q4vbEDuXjd

— Lesley Messer (@lesleymesser) February 1, 2017
…and local ones.
Beyonce is having twinsssss ??

— Janel Forte (@JanelWLOX) February 1, 2017
As @MaryWJZ says, #Beyonce is having 2 Bey Bey's…

— Jessica Kartalija (@JessKartalija) February 1, 2017
very very much here for beyonce twitter

if you're saying something about wretched news, please stop, give us this

— Rachel H. Smith (@rachelholliday) February 1, 2017
Seriously, everyone got in on it:
BEYONCE YOU COULDN'T HAVE POSTED THIS AT 8PM LAST NIGHT?? pic.twitter.com/SCEIqDL1bI

— Carina Hsieh (@carinahsieh) February 1, 2017
i feel compelled to run outside the tell strangers that beyonce is having TWINS

— Polly Mosendz (@polly) February 1, 2017
I ran downstairs to grab lunch, and now Beyonce is having twins and Iran is on notice.

— Kara Smoke (@kbsmoke) February 1, 2017
Everyone: everything is bad
nothing can save us
Beyoncé: pic.twitter.com/MKIYc4RMxS

— Elizabeth Plank (@feministabulous) February 1, 2017
TRENDWATCH 2017 pic.twitter.com/N6a38I0J4o

— Molly McGlew (@MollyMcGlew) February 1, 2017
I'm glad the Democrats ended their obstructionism and finally allowed the Senate to confirm that Beyoncé was pregnant with twins

— Michael Roston (@michaelroston) February 1, 2017
Beyonce's twins are actually already co-Presidents, but only if you have a subscription to Tidal

— Lauren Duca (@laurenduca) February 1, 2017
1) Beyoncé is preggo with twins
2) Devos is 1 vote away from going down

Who says the resistance doesn't work? Yes being woke got Bey twins!

— Bakari Sellers (@Bakari_Sellers) February 1, 2017
You guys…Donald Trump was elected President 12 weeks ago. Beyoncé literally conceived these twins to give America something to live for.

— Caity Weaver (@caityweaver) February 1, 2017
How many electoral votes does Beyoncé's stomach have? pic.twitter.com/eqyxsbMNqZ

— The Levine Machine (@Eitanthegoalie) February 1, 2017
Last but not least, have this bonus tweet exchange featuring CNN's Jake Tapper:
@lpfedme I was nowhere NEAR Beyoncé! I don't even know her!!!!!

— Jake Tapper (@jaketapper) February 1, 2017
[image: Everett Collection]
Have a tip we should know? tips@mediaite.com