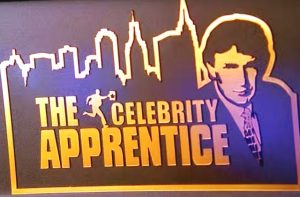 There's another new report out tonight about inappropriate behavior Donald Trump allegedly engaged in on The Apprentice years ago. Yesterday it was him allegedly calling deaf actress Marlee Matlin "retarded," and tonight's concerns some tone-deaf language he apparently used in talking about Lil Jon.
The rapper was on season 11 of Celebrity Apprentice, and according to The Daily Beast, he used the phrase "Uncle Tom" more often than really any person should:
In the heat of competition, Lil Jon bought and donned an Uncle Sam costume to help advertise the "beautiful" hair product.

During the day's shoot, Trump himself caught wind of this gimmick and began referring to Lil Jon around Apprentice staff as "Uncle Tom" instead of Uncle Sam.

"Look, he's Uncle Tom!" one longtime Apprentice staffer recalled Trump blurting out at least twice. The staffer said Trump was utterly tone-deaf to the racially charged history of the term, which is used to deride a black man deemed to be subservient to white people.
People on the show apparently scrambled to explain to Trump why this was offensive, but Trump's response was "No, that's a saying, it's Uncle Tom."
One anonymous staffer said, "There are several takes in the footage of the dailies that has him trying to figure out the difference between 'Uncle Tom' and Uncle Sam. He just couldn't grasp that it was offensive."
UPDATE –– 11:06 pm ET: Lil Jon has confirmed this took place.
[image via screengrab]
— —
Follow Josh Feldman on Twitter: @feldmaniac
Have a tip we should know? tips@mediaite.com
Josh Feldman - Senior Editor