Ex-GOP Rep. Pete Hoekstra: Create National Committee To Review Presidential Candidates' Birth Certificates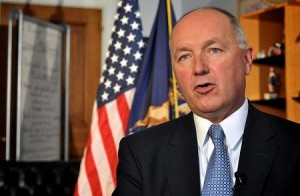 At a tea party town hall last month, Senate candidate Pete Hoekstra (R-MI) argued for establishing an official committee to vet presidential candidates' birth certificates, verifying their eligibility to run for the office. A spokesperson for the former congressman said Hoekstra is not a birther himself — and that it's "embarrassing" that we've reached a point where this is an issue.
A man in the audience at gathering asked Hoekstra about President Barack Obama's birth certificate, saying, "It's on the computer, it's everywhere, you hear people talking about it" — that no one is doing anything about it. Asked for his perspective, Hoekstra replied, "Sure. I mean, I think — you know, I think, throw something at me if you want, I think with this president, the book is closed, all right? It's kind of like, I hate to say it, but I think the debate's over — we lost that debate, and we lost that debate in 2008, when our presidential nominee said, 'I ain't talking about it.' OK, I'm sorry."
He later added, "I'd love to give you an answer and say I'm gonna fight it, we're gonna beat it and we're gonna win it. I think it wasn't fought and we lost."
But, Hoekstra suggested, an official committee would be a good idea for the future:
But I do now believe that I'd like to establish a three-person office in Washington, D.C., OK — knowing it, we'll go to five. But there's no reason why we should have this kind of question, you know, for the president of the United States. So that at any future election, all right, that someone would have to walk into that office, and prove that they meet the minimum qualifications to be president of the United States.
Michigan Democratic Party Chairman Mark Brewer responded to the comments, saying, "You can't get much further outside the mainstream than calling for the creation of a birther office staffed by the CIA and FBI." He added:
Our leaders should be focused on creating jobs, not on creating a new federal bureaucracy to comb through birth certificates. Hoekstra's radical plan to appoint a Birther Czar shows just how far he'll go to win the support of Tea Party radicals like Donald Trump.
The issue isn't "brain surgery," Hoekstra said. "It's embarrassing that we are at that point where that ever became an issue."
As TPM notes, Hoekstra is no stranger to controversy. He found himself in hot water after running a controversial campaign ad during the Super Bowl, in which a Chinese woman is seen riding a bike by a rice paddy. She "thanks" Democratic rival Debbie Stabenow for increasing spending and borrowing money from China. "Your economy get very weak," says in the ad. "Ours get very good. We take your jobs." The ad caused a stir by playing on racial stereotypes.
Here's a look at part of his remarks at the town hall:

(H/T TPM; Grand Rapids News)
Have a tip we should know? tips@mediaite.com