EXCLUSIVE: An ABC Insider Just Gave Us the Scoop on This Morning's #TeaLizard Phenomenon
The lesson in the following story is that Internet culture is tricky. In theory, anyone with a smartphone or computer can be involved in the posting and creation of memes, yes, but there is still an exclusivity to it all. If you don't get it, you just don't get it. That's why this story might be hard to explain. Not only is it about a major network show's social media team seemingly not getting it, but the humor relies on you getting it.
Let's work through this one slowly. This gif of Kermit the Frog (and sometimes a still photo) is very popular online: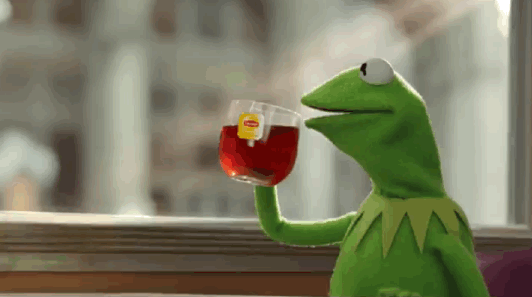 Whenever you see this image, which is usually posted after a shrewd observation about another person, you should think the words, "But that's none of my business…" That's what it means. (Note that because he is drinking Lipton, many associate the meme's origins with the phrase, "Spill the tea," which is used to describe gossiping. You're welcome for this in-depth explainer.) So, here it is in practice: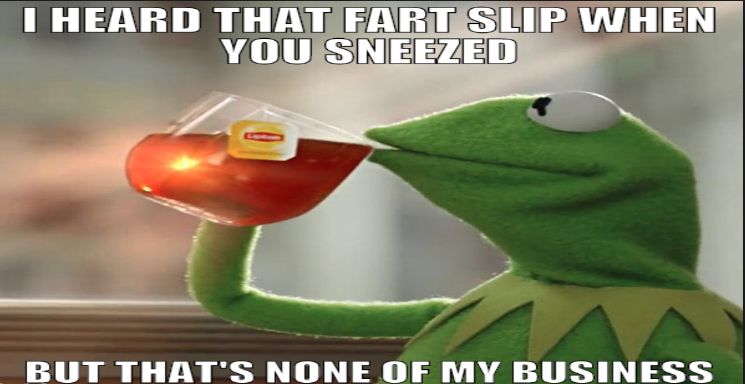 Sorry. That was the only PG-rated one we could find.
So, what does all of this have to do with Good Morning America? Well, check Twitter and you'll soon find out. Here's their original tweet with a few select responses:
Does #CryingLeBron join other meme greats like #tealizard, #CryingJordan and #smockin / the mask? Tweet us! pic.twitter.com/4xoDahAk1Q

— Good Morning America (@GMA) June 21, 2016
@GMA pic.twitter.com/PGA7BMgDYF

— John Walaszek (@jwalaszek) June 21, 2016
As much as I do love #TeaLizard, I gotta say I'm partial to #ShrugManTheManWhoShrugs and #ALSCoolWaterHotContest pic.twitter.com/Juvxd1kQWC

— The Levine Machine (@Eitanthegoalie) June 21, 2016
See, people interpreted the tweet as GMA trying too hard to be cool by referring to the "But that's none of my business…" meme as #TeaLizard. That's when they started renaming other well-known memes.
.@GMA we love #tealizard almost as much as we love #happygirlwithbigeyes! pic.twitter.com/qbSgI5LJqq

— Perez Hilton (@PerezHilton) June 21, 2016
Seriously, this has been going on all morning.
I'm blocking all lizard truthers on sight. I don't care if it's sarcasm. Kermit is a frog. Be cute in my Mentions if you want to. #TeaLizard

— ☔️ April ☔️ (@ReignOfApril) June 21, 2016
my entire morning has been DERAILED by #TeaLizard

— Anthony Brian Smith (@AnthonyBLSmith) June 21, 2016
*wakes up*

TWITTER: "#tealizard"

*goes back to bed*

— Kevin O'Keeffe (@kevinpokeeffe) June 21, 2016
Now, look at this reaction:
All of us discussing whether some evil genius at @GMA created #tealizard intentionally pic.twitter.com/EaLbHRXJSE

— Lauren Duca (@laurenduca) June 21, 2016
We here at Mediaite also wondered what the good people at GMA were thinking, so we asked. An insider there told us that they had simply been looking for memes to include in their tweet about LeBron James's tears after winning the NBA championship gaining immediate Internet infamy when they found someone else refer to Kermit as the tea lizard.
I understand not liking crying Jordan but to not like the tea lizard. Jesus

— juggalo mask (parody (@trillballins) January 21, 2016
A parody account made an offhand joke about not liking the meme back in January, so when the GMA staff searched "crying Jordan," that popped up. As you can see, they didn't originate the name at all.
All they're guilty of is perpetuating #TeaLizard and getting it to trend six months after the fact! The person behind the parody account, at least, seems to have realized this morning that their tweet is responsible for the day's entertainment half a year later. They sent out this simple message about an hour ago:
Lmao

— juggalo mask (parody (@trillballins) June 21, 2016
People have been joking all morning and even though some of the good-natured ribbing has turned cruel, the ABC insider we spoke to brushed it off as "just basic Internet stuff."
Of course, people who are tweeting mean things about the whole fiasco are still giving it attention and are part of the reason it's trending now… but that's none of our business.
[image via screengrab]
For more from Lindsey, follow her on Twitter or Facebook.
Have a tip we should know? [email protected]