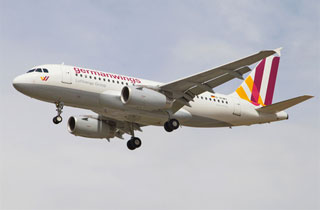 There's been numerous reports in the past few days about a video, found in the wreckage of last week's Germanwings crash, that depicts the last few moments aboard the doomed flight. The footage on it is described as "chaotic," full of "screaming" and "cries of 'My God' in several languages". However, few of the outlets who reported on the video have seen the video, promptingThe New York Times to ask: does it even exist?
The question gained legitimacy after French officials explicitly denied that such a video existed or that they'd even recovered any footage from the crash site, while the two outlets who reported on its existence, Paris Match and German's Bild, stood by their reporting.
According to the Times, while both outlets say that they've seen the video, neither actually have the video in their possession. "It is entirely possible that such a video exists," the Times observed, citing multiple experts in journalism ethics. "But the public is at least entitled to a more detailed explanation of its veracity than has been forthcoming so far."
Frédéric Helbert, the Paris Match reporter who initially reported on the video, asserted in an interview with his own paper that he and his colleague had definitely watched the video "dozens of times", but chose not to publish it because of its "harrowing" nature. That said, he doesn't actually have possession of the video, apparently obtained via "intermediaries connected to people working on the terrain":
You must understand that this video does not allow us to identify any people, it is not a trashy video. It is from a passenger who filmed from the back of the plane. The sound is atrocious. It shows the human dimension of panic, distress, screaming people on board. That is what is terrible. This is why we chose not to diffuse the video. People should stop attacking us for that. It is a very powerful human element, but it doesn't provide any information that might be useful for the investigation.
When asked if he had a response to the French official who called the video false, Helbert shot back: " Is he talking about the same video? Those are questions I would like to ask him. He says the video is a fake, but did he see it? That proves that the video exists."
[h/t New York Times]
[Image via Santi Rodriguez / Shutterstock.com]
—
>> Follow Tina Nguyen (@Tina_Nguyen) on Twitter
Have a tip we should know? tips@mediaite.com