Updated With Video: Crowd At CPAC Racism Seminar Shouts Down Black Radio Host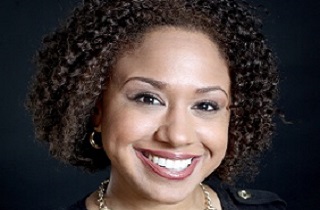 One of the many lowlights from this year's Conservative Political Action Conference was the "Trump The Race Card: Are You Sick And Tired Of Being Called A Racist When You Know You're Not One?" seminar, at which attendee  Scott Terry's defense of slavery was met with what can only be described as tolerance. Radio host Kim Brown, by contrast, was shouted down when she tried to ask a question during the designated Q & A portion of the program. Katy Jordan, who was videotaping the seminar for a documentary, has not yet released footage of the crowd's reaction to Kim Brown, but Brown obtained the audio of that portion, which she played on her radio show Thursday morning.
Jordan had already posted a clip of Scott Terry's contribution, shot for filmmaker Kevin Dotson's forthcoming documentary called Black Tea, which featured cleaner audio, a closer point of view, and about forty more seconds than the version that made the rounds on cable news. Kim Brown's own account of the session, as well as TPM's reporting, described the starkly different reception Brown received when she asked about Republican failure to call out their own over racist ads and comments:
After other attendees stood up to ask their questions, it was my turn. "I'm not a conservative, " I began. The room erupted in a raucous chorus of boos and jeers. My voice was completely drowned out. I remained standing, amused by the deafening vitriolic reaction. I tried again. "This man [Smith] is being disengenous…" BOOOOO! HISSS! YOU'RE NOT WELCOME HERE!!! AHHHH!!!

At that point, I was not allowed to finish my question. Yells of "shut up" and "no one wants to hear your question" were directed my way. Okay. Mind you, the room's reaction to the segregationist was decidedly muted.
Brown asked that Katy Jordan release that portion of her recording, which Jordan hasn't done yet, but Kim Brown did obtain the audio of that portion of the program, which she played on her radio show this morning (you can follow Kim on Twitter here). In part one, Brown talks about K. Carl Smith's presentation, and recaps the crowd's reaction to Scott Terry's remarks:
Then, Brown plays several clips of exclusive audio from Katy Jordan's recording, and narrates the goings-on. First, she plays audio in which she tells the crowd that "these gentlemen are being extremely disingenuous with you," to immediate shouts of "No!" and "Boo!" Those reactions were notable absent from Scott Terry's pro-slavery rant. Smith then says "I thought you had a question. That's a statement."
Keep in mind that Terry made a full minute of uninterrupted statements before he ever asked the question ("Why can't we be segregated?") that Smith completely ignored. Kim then tries to sk her question, and Smith actually says "No, it's time-out time!"
Oh yes, he did.
When Kim tries to ask her question again, a man she identifies as Smith's brother says, into the microphone, "Let someone else speak! Let someone else speak! Ma'am, you're disrupting this! Let someone else speak!"
In the next part, Guardian reporter Adam Gabbatt tells the crowd he'd like to hear Kim's question, to immediate, prolonged shouts of "No!"
When Kim tries to ask her question, someone shouts "Get your own room! Get your own platform!"
Scott Terry, slavery guy: welcome. Kim Brown, black radio host: Get your own platform. Then, some goober yells "Well, thank you, I wanted to hear it!" then corrects himself: "I don't want to hear it!"
As she begins to ask her question, someone yells "I thought you had a question!"
"May I preface my question?" Kim asks.
"No!"
Now, we're at about 20 shouts of "no" for Kim, to zero for slavery guy.
Then, a woman shouts "You're not welcome here!"
Again, Scott Terry received no such reproach.
Kim told me that in the next part, it was Bill Norton, National Support Team of the Tea Party Patriots Constitutional Coordinator, who stood up for her, and admonished the room to be respectful, and allow her to finish the question.
She managed to finish her question, with more interruptions. Using the racist Pete Hoekstra "Debbie Spend-it-now" ad as an example, she asked why is it when racist/sexist statements and ads come from the right, there is no condemnation?
As Kim points out over and over again, the contrast between the treatment of Scott Terry and the reaction to Kim's questions is remarkable:
As I said earlier, it would be unfair to assert that this crowd was representative of CPAC as a whole. People voluntarily attending a seminar that is premised on racism being a "card" would seem to be much more likely to accept, if not agree with, arguments about the "disenfranchisement" of white people. Representative or not, though, the vibe was consistent with popular conservative attitudes about race. This clip exemplifies the Republican Party's complete apathy for the black voters they don't already have, as recently codified by their official 2012 "Autopsy Report," which makes it clear that the Republican Party's problem with black people is the black people, and their bad habits. It is now their official plan to stop saying "poorly-phrased" and "out-of-context" racist-y things about Hispanic and Asian and Pacific Islander-American voters, but not about black people.
Kim Brown has also posted 28 minutes of video from Smith's presentation, which unfortunately doesn't include these incidents, but does allow for a more thorough examination of the seminar's subject matter. If and when Katy Jordan posts her video, we will bring it to you.
Updated: Katy Jordan has posted an extended version of both Scott Terry's remarks, and some footage of Kim Brown being shouted down, although not all of the clips that were on the audio are included. Here's the video, from filmmaker Kevin Dotson's upcoming documentary Black Tea:
Have a tip we should know? tips@mediaite.com