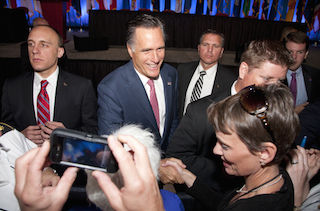 Ahead of what may be his third vie for the presidency in a row, Mitt Romney spoke to an RNC crowd aboard the USS Midway in San Diego Friday night. He struck populist notes, stressing rising wages to "end the scourge of poverty."
"Under President Obama, the rich have gotten richer, income inequality has gotten worse and there are more people in poverty than ever before," Romney said, per the Washington Post. "Under this president, his policies have not worked. Their liberal policies are good every four years for a campaign, but they don't get the job done."
Romney cited his wife Ann as witness to his character, and made a rare reference to his role as a Mormon pastor.
RELATED: Netflix's Mitt Shows a Warmer Side of Romney, But It Won't Make You Reevaluate Him
"She knows my heart in a way that few people do," he said. "She's seen me not just as a business guy and a political guy, but for over 10 years as you know I served as a pastor for a congregation and for groups of congregations… She's seen me work with folks that are looking for better work and jobs and providing care for the sick and the elderly. She knows where my heart is.
Romney was dogged in his 2012 campaign by various gaffes that painted him as (or revealed him to be, depending on your point of view) an out of touch plutocrat who disdained the poor. These ranged from the decontextualized "I don't care about the very poor" to tape-recorded comments from a private dinner in which he wrote off 47% of voters as takers.
Romney's gestures toward entering the race comes after former Florida Governor Jeb Bush made the most serious moves of any potential GOP candidate yet, announcing a leadership PAC to raise funds. Former Arkansas Governor Mike Huckabee also left his Fox News show in anticipation of a run.
To them, Romney cited his experience — not his business experience, his experience doing exactly this. "[Ann] believes that people get better with experience," he joked. "Heaven knows I have experience running for president."
[h/t Washington Post]
[Image via American Spirit / Shutterstock.com]
——
>> Follow Evan McMurry (@evanmcmurry) on Twitter
Have a tip we should know? tips@mediaite.com