'Fake Footage!': PBS Gets Blasted For Airing Old Fireworks Broadcast Due to Inclement Weather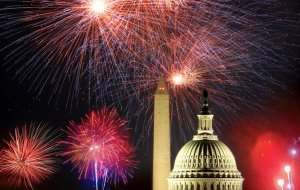 Live TV is hard. There are so many factors that go into a live broadcast that can create a nightmare scenario for even the most experienced television producers and staff. And when you're trying to broadcast a live fireworks show in the middle of bad weather — like PBS set out to do Monday night — sometimes you need to make compromises.
Unfortunately, people took notice.
The weather was poor in our nation's capital last night — Mediaite's Washington Bureau editor extraordinaire Alex Griswold described it as, "foggy and rainy," — but the show for PBS' "A Capitol Fourth" had to go on. So during the broadcast, the television net slipped in some footage from the 2015 event, which viewers noticed immediately given the stark contrast in weather.
People on social media were quick to respond:
#Blessed to see the fireworks from my apt window & watch #July4thPBS. Tho, the fireworks out my window don't look like @pbs. #fake? ???

— Tina (@tinpant) July 5, 2016
Not cool @pbs…. Fake footage of fireworks on the Fourth???? It's cloudy and rainy in DC. Those shots are clearly not from tonight.

— Chris Wallgren (@seawall77) July 5, 2016
Just flipped over to PBS here in the newsroom. Wow that is stock footage. They did have a few live shots, you could see the foggy conditions

— JimMacKayOnAir (@JimMacKayOnAir) July 5, 2016
#PBS gives money to political campaigns. Are we surprised they use fake firework footage? #July4thPBS

— Bernetta (@apatoflaurus) July 5, 2016
Fake fireworks footage? Way to go, PBS https://t.co/JUQliKEgkL

— wade lambert (@wadeNYC) July 5, 2016
@July4thPBS If you'd labeled footage w/ the year ("Live" vs "2014" & the like) it would have made more sense. Otherwise, it felt fake.

— Kim O'Connell (@kim_oconnell) July 5, 2016
Totally using stock footage for the "live" broadcast. Guess they would rather fake it than admit weather sucked and reschedule #July4thPBS

— Michael Butler (@thembutler) July 5, 2016
Eventually the organizers of the broadcast were forced to admit that they did in fact combine different years worth of footage because it was, "the patriotic thing to do":
We showed a combination of the best fireworks from this year and previous years. It was the patriotic thing to do. #July4thPBS

— A Capitol Fourth (@July4thPBS) July 5, 2016
The patriotic thing to do? O! say can you deceive?
The Washington Post had previously reported that Tom Bergeron, the host for PBS' "A Capitol Fourth" was not worried about the forecasts for the event. "The first rule of improv, as I was taught it, is you say yes to everything. You don't tense up… I'm open for anything. That doesn't bother me," he said yesterday.
—
[image via PBS]
Have a tip we should know? tips@mediaite.com