Falling In Love? Woman Found Guilty of Murdering Her Romantic Rival Via Skydiving Sabotage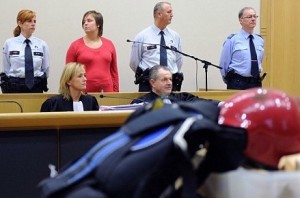 Yesterday a Belgium court sentenced schoolteacher Els Clottemans to 30 years for murdering her romantic rival by sabotaging her parachute, ending a bizarre and fascinating saga of love, murder, and skydiving.
Clottemans, who was diagnosed by a court psychiatrist as psychopathic, narcissistic and manipulative, had been dating Marcel Somers, a Dutch skydiving teacher. Somers was also seeing Els Van Doren, who was married to a Flemish jeweler. In 2006, all three were members of an East Flanders parachuting club.
Prosecutors say that Clottemans had long suspected Somers favored Van Doren but her breaking point came a few days before the murder. Both women had been invited over to Somers' apartment, where the Telegraph reports that they "competed for his attention." Van Doren was allowed to stay in the master bedroom but Clottemans was rejected and sent to sleep on the couch. Left alone with Van Doren's gear, Clottemans disabled her main and backup parachutes.
A few days later, their skydiving club jumped over Flanders. Clottemans, Van Doren and Somers had planned on jumping in formation, holding hands, but Clottemans was late on her jump and fell behind. Somers then watched as Van Doren plummeted 3,000 feet and landed in a garden. Officials say the camera in her helmet recording her last frantic moments.
There was little physical evidence presented during the trial but the jury found the dynamics of the love triangle to be enough evidence to convict. Clottemans continues to maintain her innocence, though she did request clemency due to the early death of her father. The Telegraph reports that upon hearing her plea, the victim's teenage children left the courtroom.
Have a tip we should know? tips@mediaite.com