Fantastic Four Cast Treated to Awkwardly Sexist, Racist Interview with Atlanta DJ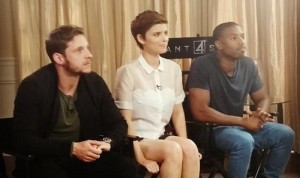 The cast of the new Fantastic Four film faced a rather awkward line of questioning when Rock 100.5 Atlanta DJ Steven J. Rickman posed racist and sexist questions to co-stars Michael B. Jordan and Kate Mara.
When the cast of the new reboot was initially announced, many heads turned and tongues wagged due to the obvious ethnic difference between Jordan and Mara. As Johnny and Sue Storm respectively, they would be playing characters who had always been siblings in the comics. This version would be no different, except Jordan is African-American and Mara is Caucasian.
Of course, the "Ultimates" line of Fantastic Four comics created the racial distinction between the two by turning the Storms into a mixed-race family, so the film isn't ignoring the source material. However, shock-jock Rickman just couldn't leave the issue alone when he interviewed the pair last Thursday.
Rickman grilled Jordan and Mara about the difference, noting his confusion at the pair playing a "brother and sister" despite their being two different races. Jordan offered the DJ some food for thought when he explained, "They could be raised as brother and sister. There's a whole bunch of family dynamics that could be without the obvious adoption."
The DJ finally let the issue go, but not before turning on Mara's physical appearance and repeatedly asked her about her haircut. He didn't even ask her about the film:
RICKMAN: You're way, way hot. Why'd you cut the hair? Your hair was beautiful.

MARA: This is a great interview.

RICKMAN: So did you cut your hair for this?

MARA: I cut my hair for a movie I just did.

RICKMAN: What would you cut your hair for?

MARA: They asked me to. I'm an actress. I have to be a chameleon.

RICKMAN: So this could be a three or four movie run for you guys?

ALL: We hope so.

RICKMAN: And you're going to grow your hair back, hopefully?
Check out the audio from the interview below, courtesy of the Rock 100.5 Morning Show:
[h/t BuzzFeed]
[Image via Twitter]
— —
>> Follow Andrew Husband (@AndrewHusband) on Twitter
Have a tip we should know? tips@mediaite.com